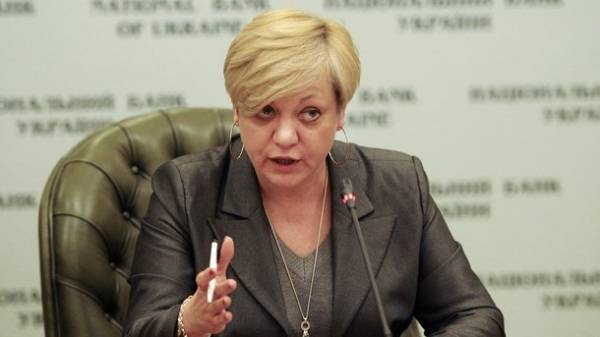 The national Bank of Ukraine (NBU) in may of this year will have a different Manager, I'm sure the current head of the NBU Valery Gontareva.
"Following the Board of the NBU's monetary policy on may 25, will be chaired by my Deputy/successor – meaning that I wouldn't be me. This will be my Deputy, if he is to fulfill responsibilities, or my successor, if he will be voted by the Verkhovna Rada", – said Gontareva.
In her opinion, this issue is not already discussed with the President of Ukraine Petro Poroshenko.
"We discussed this process for three months. It is not necessary to discuss anything. Need to make a decision in respect of the successor, which he will submit to the Verkhovna Rada", – said the head of the NBU.
As you know, April 10, Gontareva has officially announced his resignation. The statement of Gontareva must be signed by the President of Ukraine Petro Poroshenko, after which it will be considered by the Verkhovna Rada.
Resign Gontareva is may 10, notifying, according to the rules for a month. However, if the Verkhovna Rada voted for the dismissal of the NBU Governor earlier, Gontareva leaves post according to the decision of Parliament.
The BPP believe that the post of head of the National Bank of Ukraine will occupy either the head of the Board of Raiffeisen Bank Aval Vladimir Lavrenchuk, or to control of the NBU for a long time will be the acting Yakov Smoliy.
Comments
comments