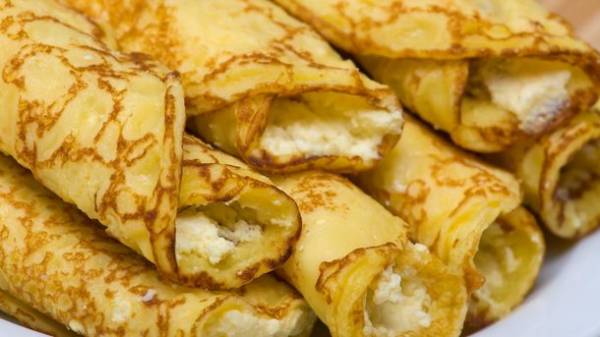 Today people celebrate the second day of carnival. In the old days this day was called "Zaigrysh" – young people have chosen a couple, and the girl could smile any guy without fear of being judged. Newly married young couples must go down the high slide, the longer will drive their sleds, the longer and happier their life. And this week – a real feast for the stomach, during which time the entire week before the Great lent can and should make pancakes. So they don't have time to get bored, experiment with form and content. Today we propose to cook pancake rolls, bags, cake and pancakes in the hole, and dump all this diversity suggest different choices for toppings processed cheeses.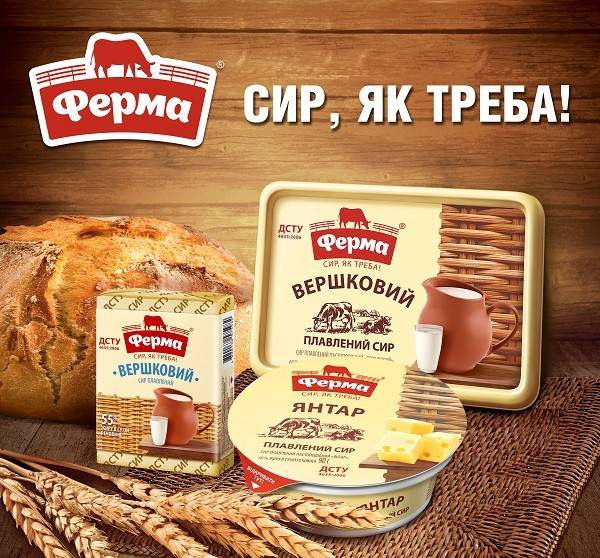 PANCAKE ROLLS
Ingredients
Pancakes – 10.
Cottage cheese TM "FARM greens" – 2 PCs.
Eggs – 4 PCs.
Sour cream 15% – 3 tbsp
Garlic – 2 cloves
Salt, pepper – to taste
Preparation:
Prepare the pancakes according to your favorite recipe. Cook hard-boiled eggs, cool. Separate the whites from the yolks. Proteins RUB on a small grater. Processed cheese grate on a fine grater. Garlic skip through the press. All ingredients mix with sour cream, salt and pepper. The resulting mass apply a thin pancakes, roll them rolls and serve.
PANCAKE CAKE WITH PRESERVES AND CHEESE
Pancakes – 10.
Eggs, hard boiled – 3 PCs.
Raw egg – 1 PC.
Cottage cheese TM "FARM Butter" – 3 PCs.
Green onions – 1 bunch
Canned fish – 1 b.
Preparation:
Hard-boiled eggs cut into small cubes, shred the green onion. Fish mash with a fork, pre-drain the liquid into a separate bowl (we're gonna need it). Combine the onions with the fish. Put there eggs, mix thoroughly. The first filling is ready. Leave it to one side. The second filling is grated processed cheese, which you can optionally add a pinch of ground black pepper.
Take a detachable form for baking, it will sastram kitchen paper. Put the first pancake on it – processed cheese, then another pancake – a fish-egg stuffing, and so alternating, make a cake. Top fill it with egg beaten with oil from canned fish and put it into the preheated oven for 30-40 minutes, bake at 180 degrees. This cake is delicious both warm and cold.
POUCHES WITH CHICKEN AND CHEESE
Ingredients for the filling:
Pancakes – 10.
Chicken breast – 300 g
Processed cheese FARM "WITH wild mushrooms" – 3 PCs.
Onion (large) – 1pc.
Olive oil
Green onion, or any herbs to taste
Salt, black pepper – to taste
Suluguni smoked spit – 1pc. (for tying bags)
Preparation:
My chicken breast, cut into cubes, salt, pepper and lightly fry. Cut the onion into cubes and fry. Mix it with chicken. Processed cheese with mushrooms RUB on a small grater, add chopped greens. The pancake lay heaped chicken with onion and grated cheese. To form a pouch and tie it "thread" Suluguni. Bake in the oven for 10-15 minutes.
DELICATE PANCAKES WITH CHEESE "CREAM"
Pancakes – 10.
Lettuce – 10 PCs.
Processed cheese TM FARM "Druzhba" – 2 PCs.
Garlic – to taste
Preparation:
Take a bottle of valve or make a hole in the lid of a standard plastic bottle. Pour into it the dough. Bake pancakes on a dry pan, making, with the help of bottles, fishnet mesh. When pancakes are cooled, lay them on lettuce, and top with the cheese "cream" made from grated processed cheese with garlic, and turn rolls. Stuffing can also be scrambled eggs, cheese, various vegetables.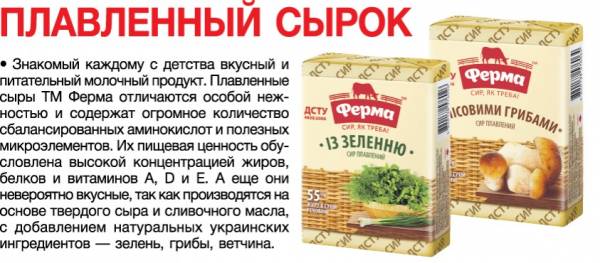 Useful tips:
Bake pancakes on a very hot pan. The first pancake often goes lumpy because of the fact that the pan is poorly heated.
Do not forget to put in the dough, like salt and sugar, otherwise the pancakes will come out or fresh (if nothing to put), or not very tasty (if you put only one ingredient). Just if you plan a salt filling, the salt is put a little bit more and Vice versa.
After the first pancake is ready, try it, indulge in a composition of sugar and salt. This will show whether to add something or leave it as is.
Comments
comments