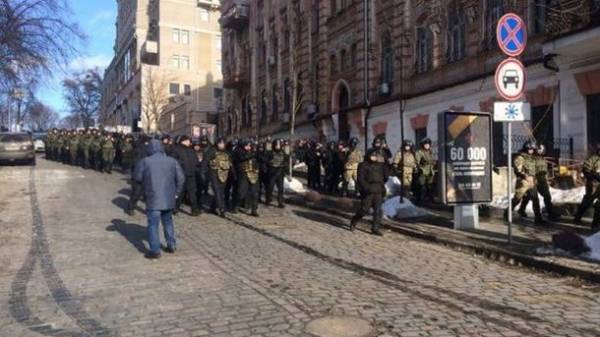 In Kiev on Institutskaya street clashes between protesters and police.
At the intersection of Institutska and Bankova supporters of the OUN and the participants of the blockade of the railway communication with the occupied territories attempted to install the tent camp.
The police prevented the smuggling of metal objects for tents.
Around 19.00 the protesters, attempts were made to pass on the street. Police and units of the National guard of Ukraine prevented the passage of people.
About 19.20 protesters tried to break barricades installed by police officers.
Around 19.30 to the fence on Bankova street came another detachment of the National guard.
On the site of the collision, in addition to deputies Sobolev and Semenchenko are the leader of the OUN Nikolay Kohanivsky and Deputy Chairman of national police-head of patrol police Alexander Fatsevich.
It is noted that the cause of the collision was the failure of police officers to miss the protesters on Bankova street.
As reported by "Ukrainian news" as of 19.10 law enforcement officers blocked the street Institutska.
We will remind, on Donbass lasts the blockade of the coal, with the active participation of several people's deputies of Ukraine. Upon blocking of railway lines in the Luhansk oblast Prosecutor's office opened criminal proceedings.
In turn the Prime Minister-the Minister Vladimir Groysman declared that will not allow the embargo to organize the fight against the Ukrainian people. The Prime Minister reminded that two weeks ago people risked their lives to restore the operation of enterprises in the town.
The website "Today" to find out the threat is a blockade of Donbass. According to experts, the consequences could be disastrous.
Comments
comments