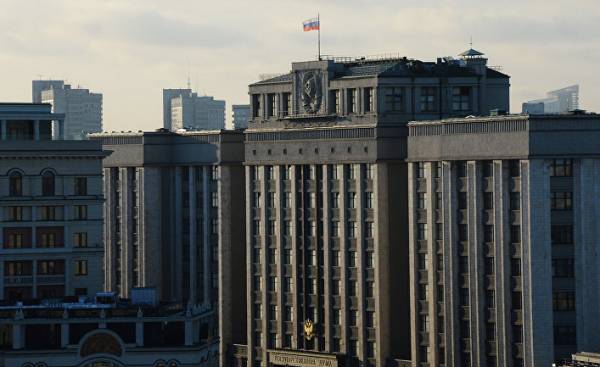 45-year-old Boronenkov is a typical representative of the new elite that emerged under President Vladimir Putin. Being a military lawyer who served in the Agency for drug control, which then led to a longtime associate of Putin and who doesn't exist anymore, made his political career in the oil-rich region and came to the State Duma as a result of the fraudulent elections of 2011. Voronenkov has never worked in the private sector. Nevertheless, he somehow managed to acquire several extremely expensive real estate and lots of expensive cars. During the work in Parliament he married Maria Maksakova, a well-known Opera singer of the Mariinsky theatre and a member of Putin's party "United Russia". The then Parliament speaker Sergei Naryshkin, who now heads the Russian foreign intelligence service, sang at the wedding Boronenkov and Maksakova.
The most famous legislative accomplishment Boronenkov became involved in drafting the bill 2014, which prohibits foreign nationals to own Russian media — perhaps this was the most disastrous event in Putin's Russia, what happened with freedom of the press as an institution. After Putin signed the law, such publishers, like Dow Jones, Hearst and the German Axel Springer was forced to leave Russia, the local players sold all their Russian assets, including the critical edition, at reduced prices.
Former Communist MP also ganged up on offshore company — another favorite target of Putin. "Russia is a rich country, but it is impossible infinitely to Rob her, bringing billions! said Boronenkov, addressing the Parliament. — Not only the President — the whole country is waiting for us anti-offshore amendments to the law".
However, this public stance has not prevented Voronenkov to appear in the "gather documents" as a shareholder of the company registered in the British virgin Islands and operating in Switzerland.
Like many other members of the elite who navigated the murky waters of Russian crony capitalism, from time to time Boronenkov had problems with the fact that in Russia is called the law: at various times he was accused of illegal seizure of one of the Moscow building, bribery and even in the organization of assassinations. However, it was never brought to trial and therefore not convicted of committing any crimes. But in 2016 he lost the election and he was indicted in the case about the seizure of a Moscow building. He immediately moved to Kiev, and two months after the expiry of the parliamentary immunity he was already a citizen of Ukraine in accordance with the decree of the President of Perth Poroshenko.
This week Boronenkov gave a very detailed interview with Censor. net — a militant Patriotic Ukrainian website that the Russian government has decided to block. "The situation in Russia now as in Nazi Germany of Hitler, he said. — The whole state has gone mad in pseudo-Patriotic frenzy." When he was reminded that he voted to illegally annexed the Crimea became part of Russia, Boronenkov said that he didn't do it, and that someone is just using his voting card.
Now Voronenkov is a strong critic of Putin, claiming that the FSB kicked him out of the country. According to him, he was inspired by people's protests against the falsification of the election results of 2011, which incidentally, he entered Parliament, and he has always supported the Ukrainian "revolution of dignity", which has led to overthrow of President Viktor Yanukovych in 2014. In Kiev, he gave testimony against Yanukovych, who is accused of treason. Apparently, it is this evidence against Yanukovych and the apparent willingness Boronenkov to tell everything he knows about politics and enabled him to obtain Ukrainian citizenship is a very big honor, and volunteers fighting in Eastern Ukraine on the side of Kiev, you have to put a lot more effort to attain.
Dual citizenship Boronenkov is symbolic. However, it also has practical significance. First disgraced and got in big trouble the representatives of Putin's elite fled to the West, preferring to settle in the United Kingdom. Now the Kiev route looks much more simple option: if you take a certain position, then you won't have to fear extradition and life in Ukraine is almost indistinguishable from life in Russia. "Ukraine accepts all who believe in it, said Boronenkov in an interview. In Europe you'll always be a stranger." No salesman, touting Ukraine corrupt Russian officials who have problems with the law, could not Express this thought better.
The essence of the conflict between Russia and Ukraine, which divides the two countries in 2014 and which has launched an active phase of geopolitical confrontation with the West, Putin is in the choice of the civilization model. Ordinary Ukrainians, who overthrew Yanukovych, believed that their country leaves behind the shadow of the Pro-Russian corrupt regime and begins to move towards a European future. Some Russian liberals even moved to Kiev in the hope that Ukraine will become an example for Russia in how to create an open economy, democratic political system and establish a dictatorship of the law. These dreams were not destined to materialize, however, the Poroshenko government has achieved relative success in their attempts to give hatred to Putin's efforts to reform.
Boronenkov and Maksakova will thrive in Ukraine, just as they flourished in Russia: they will say what is required of them and to play by the rules, which they always played. Instead of turning into a Pro-Western post-Russia, Ukraine took the form of anti-Russian, while keeping the post-Soviet style of management with its obligatory hypocrisy.
Comments
comments