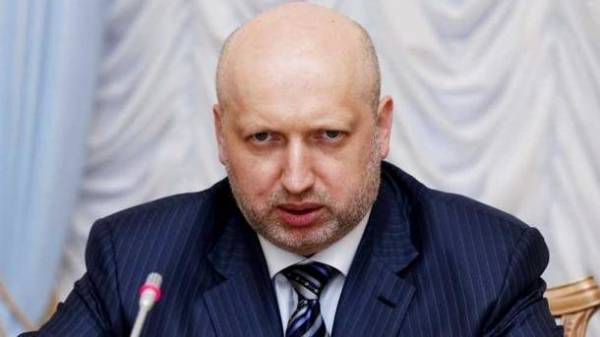 Russian President Vladimir Putin shows his statement regarding the possible supply of American arms Ukraine that he will continue to support militants in the Donbas and in other countries. This was stated by the NSDC Secretary Oleksandr Turchynov, the press service of the Ministry.
According to him, the hysterical comments of Putin on the inadmissibility of the possible supply of U.S. lethal weapons Ukraine is "a testimony to the readiness of Russia to demonstrative continued funding and providing weapons of international terrorism."
"The Russian President allow himself to scare the U.S. and the international community that Russian troops in the occupied territory of Donbass allegedly left the "enough weapons", which can refer to any hotspot in the world, "sensitive to those who create problems for them", i.e. the United States," – said Turchinov.
SEE ALSO
"The militants in the Donbas enough weapons": Freese pointed out the mistake of Putin
He recalled that on the territory of Donbass, which is now controlled by the rebels, there were no bases storage of equipment or ammunition.
"All military equipment, ammunition and weapons are supplied by hybrid armies and terrorist groups exclusively Russian Federation. The supply of weapons and technology that threatens Putin, the US can only be Russian," – said the NSDC Secretary, noting that the border in this area is controlled by Russia.
SEE ALSO
Putin agreed to peacekeepers in the Donbass, but with conditions
He also put Russia in one row with the ISIL terrorists and North Korea.
"What opponents of the US wants to supply weapons to Putin? Today not so much. It is a world terrorist organizations like ISIS, and "al-Qaeda", or the North Korean regime that threatens global security with its nuclear missile weapons. And now wants to arm the Putin under the guise created by their hands of the occupation regimes of the fake "republics". Thus, today, ISIL and North Korea, and Russia are on the same level, which threaten the security of the world, as in his statement and reminded Putin," – said Turchinov.
We will remind, Vladimir Putin declared today that the Americans supply weapons to Ukraine could escalate the conflict. He pointed to the fact that the militants in the Donbas enough weapons, and they could aim for more Ukrainian territory.
Comments
comments