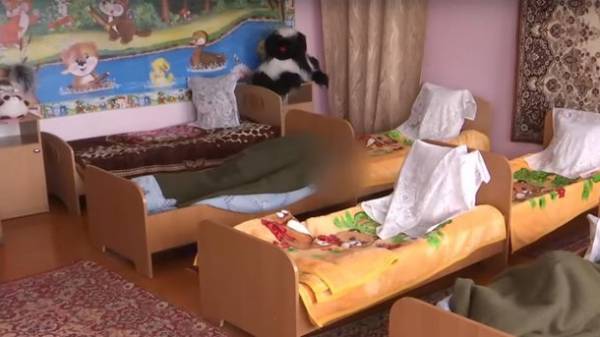 In Ukraine, the scandal in a rehabilitation center for children with disorders of mental development, which is located in Asheninca Rivne region. The Director decided to save on the heat by the children and gave the order not to heat the children's rooms. As a result, the temperature in the building dropped to 12 degrees Celsius, while the street was cold.
The "SAVINGS". Because of the cold in the building the children were forced to wear warm clothes and shelter in the night several blankets. At the same time in the rooms being worked electric heaters, maintaining a comfortable temperature.
After the news about freezing children became public, internat arrived the regional inspection.
As told "Today" head of the regional Department of education Gregory targonsky, the initiative of the Director of savings — arbitrariness.
"To reduce the temperature in the building causes was not! The center has its own boiler room with gas and electric boilers. Electricity is, gas is also enough equipment properly, says targonsky. But the Director somehow showed a strange eagerness and began to save money at the expense of children. But did not consider the fact that the February frosts. If there were problems with the heating, it was necessary to sound the alarm — there are children with serious illnesses. Now in the building the temperature is 18 degrees".
Targonsky adds that the Director of the orphanage Stepan Koper admitted his guilt: "he Says that I made a bad managerial decision. At least a severe reprimand." In addition, PE is interested in the regional Prosecutor's office.
THE NURSE RESIGNED. Meanwhile, the volunteers who inspect the boarding schools along with officials, told "Today" that a similar incident with a 6-year-old graduate of the Romanov's boarding school in Zhytomyr region ended relatively well.
We will remind, in December of 2016, the volunteers said that the nurse of a boarding school, in its sole discretion, decided not to call an ambulance for the patient with cerebral palsy, whose temperature rose to 41.7 degrees. The nurse decided that the baby would not survive, and let the situation slide. Child rescued after a nationwide publicity and the intervention of the children's Ombudsman Mykola Kuleba.
"Andrew was in rehab, is temporarily in a foster home and is already trying to stand alone. Now the issue of his custody, it is possible that he will return to his mother. The nurse who didn't called him an ambulance, quit," says volunteer Svetlana Harchenko.
Comments
comments