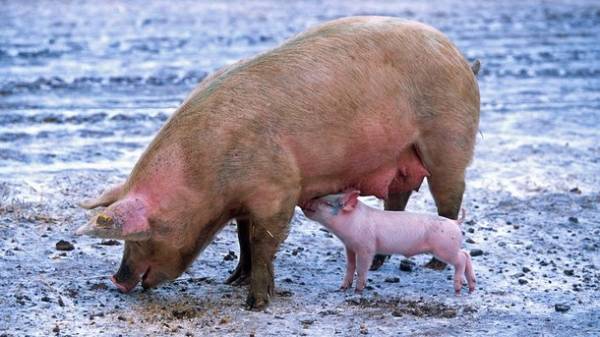 The number of pigs in Ukraine has decreased to historic lows, and as of February 1, 2017 amounted to 6,304 million, which is 0.5% less than the previous record set in February 2005 (6,335 million head). This was announced by the experts of "Ukrainian agrarian Confederation" UAK).
Compared to February 2016, the number of pigs decreased by 10.5%.
Experts explain this trend by the epidemic spread of dangerous viral diseases of animals – African swine fever (ASF). So, in 2016, the veterinarians recorded in Ukraine 91 the outbreak of the disease, which is also a record in the history of the country. And from the beginning of 2017 – 34.
As of now the quarantine is in effect in 39 disadvantaged settlements in 16 oblasts of Ukraine. The greatest number of quarantine zones now comes on the territory of Poltava (7), Kharkiv (5) and Luhansk (4) regions.
According to the UAC, the largest reduction of the pig stock last year was recorded in Donetsk region. There as of 1 February 2017, compared to February 2016, the number of pigs decreased by 51.9 per cent.
At the same time, in the Volyn, Lviv, Ivano-Frankivsk and Zakarpattya oblasts the number of pigs in the accounting period increased by 4.4%, 2,3%, 1% and 0.3%, respectively.
As reported, according to the head of Gospodarevskaya Volodymyr Lapa, after fixing the first outbreak of ASF on the territory of Ukraine the loss of the pig industry from the spread of the virus amounted to about UAH 200 million. If the current trend to the spread of ASF continue, Ukraine by 2020 will lose more than 1.2 million pigs, or UAH 4 billion, and indirect costs will grow by 5-7,5 billion UAH.
The state foods and consumer service predicts that in 2017, the veterinarians will record about 100-110 infections.
The African plague of pigs (illness of Montgomery) – a contagious viral disease of domestic and wild pigs. For the person the virus of danger does not carry. The disease is transmitted by direct contact of patients and healthy animals through pork products, mites and mechanically (means of transport, when moving people and animals). Vaccine against the disease there. Almost all of the number of sick pigs die. The virus is destroyed only by heating to high temperatures.
Comments
comments