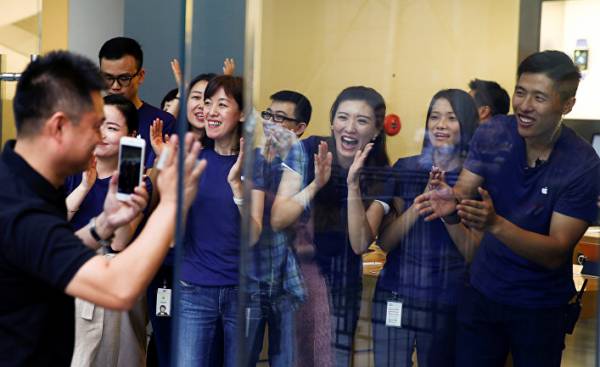 Like millions of young men and women from rural areas of China, And Yin went to the seaside town where it is easier to find a job. In Shenzhen, Southeast of the metropolis bordering Hong Kong, he joined a large public company.
Two years later the doctors said 24-year-old And he had leukemia due to prolonged exposure to benzene. It is a toxic, sweet smelling chemical, the contents of which are strictly regulated in developed countries. In China he had to breathe it every day.
About And Mine and other Chinese victims of the global supply chains of products — from shipping containers to the iPhone Apple describes in the new documentary film Complicit ("Complicity") of filmmakers Heather white and Lynn Zhang. In addition to the testimony of dozens of victims and messages of the Chinese and foreign media, the film also the materials that were secretly filmed by activists.
Prime Minister Complicit hosted in United States at new York's Lincoln Center on June 12 at the notice. The scene of the funeral of a young factory working reminded some in the audience that they, too, played a role in this tragedy.
"I felt guilty after watching the movie, said Joe Garay, who was present at the premiere. — I didn't know anything about the people dying because of the iPhones or the iPad."
The film States that 90% of the world's consumer electronics are produced in China. Many companies such as Foxconn is the largest electronics manufacturer in the world and supplier to Apple, hire migrant workers, who leave their village in search of paid work. According to official statistics, China had more than 280 million migrant workers, in 2016, many of whom were teenagers.
Chinese contractors for global brands force workers to use a toxic chemical solvents such as benzene and n-hexane because they are cheaper or more effective than their less dangerous alternatives.
This unethical production practices have led to many tragic cases, some of them documented in the film.
In 2009, Ming Kunpeng was diagnosed with leukemia after two years of drying the electronic components with the help of benzene at the plant owned by the Dutch company ASM International. ASM representative denied that the Mines were exposed to benzene, but the company eventually offered a one-time compensation to the family Mine after a protracted dispute.
Mine health deteriorated, and not wanting to burden his family with high medical expenses, he committed suicide by jumping from the roof of the hospital where he received treatment. He was 27 years old.
But sometimes tragedy brings true inspiration. It happened in the case And Etina, of the migrant worker in Shenzhen.
Despite the struggle with leukemia since 2005 and the rising cost of treatment, And found time for volunteer work in NGOs in Hong Kong to help dozens of victims of occupational diseases or injuries related to work, to demand compensation and better working conditions from companies such as Foxconn.
"I cry when you watch the film, because I feel connected with these people," — said in an interview with Director Heather white. She previously headed a human rights NGO and worked in China, investigating violations of the conditions of labor in factories.
Electronics manufacturers worldwide are in breach of the conditions of labour, entrenched state offense, and corporate abuses has exacerbated the situation in China. Chinese authorities accept bribes from factories to suppress activists and to put pressure on NGOs instead of addressing violations and negligence.
Due to militant activities And Etin was evicted from the apartment, after it has installed the surveillance and banned from leaving the country. Despite this, he recently managed to go to Geneva for the European premiere of the film Complicit, but after that the authorities interrogated him for a long time.
Another worker, who was supposed to be shown in the documentary, have disappeared on the way to work. Previously, he organized other workers in the vicinity of the plant Foxconn, where they found a group of victims of leukemia.
"We haven't heard anything about it, said Heather white, during the discussion of the film after the premiere. — His family never found him."
"China is a more extreme place because of the oppressive authoritarian governments and a complete lack of rights for workers," she added.
Heather white called on consumers to put pressure on the world's major brands, signing petitions, sending letters or making phone calls on hot lines of companies, requiring them to show they care about workers. Companies like Apple and Samsung, "can directly influence the quality of working conditions, at least in their own factories," said she.
"I feel that we, the consumers in the country of plenty, associated with those people who produce the goods for us, î said audience member Jody R. Weiss after the premiere of the film. — As if we are one in heart if they suffer, we suffer."
Comments
comments