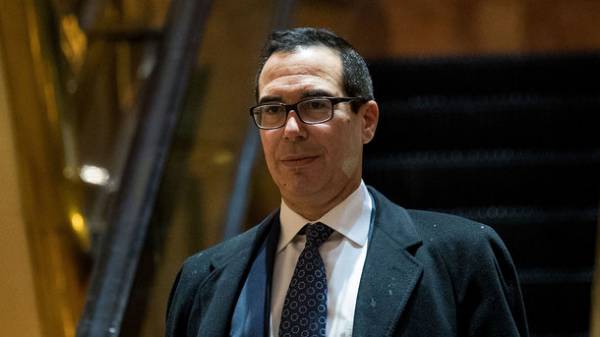 The newly appointed U.S. Secretary of the Treasury Steven Mnuchin stated that the current program of sanctions against Russia remains in force. He stated at his first press conference, being in a new position.
Note that yesterday the U.S. Senate approved the candidacy of Mnuchin, former Executive Director of Goldman Sachs, to the post of Minister of Finance.
"Of course, the sanctions program works. And I want to say that sanctions are an important tool, and we will continue to consider it in relation to other countries. But this is a very important program for the Ministry of Finance" – he said, answering a question on sanctions against Russia, imposed by the ex-US President Barack Obama.
Also, he said, is working on the issue of imposing additional sanctions against Iran.
"We expect that there will be frozen tens of millions of dollars and, again, sanctions are a very important way for us to send a signal that we will not stand by when there is illegal activity, whether drug trafficking or terrorism," said Mnuchin.
Recall, a group of US senators plans to propose a bill limiting the ability of the administration of the President of the United States Donald trump to lift the sanctions against Russia unilaterally.
Earlier it was reported that the United States is concerned about the escalation of violence in Eastern Ukraine and Russian behavior will depend on the future of sanctions.
As you know, a number of analysts and journalists have reported on the rumors that have been circulating in the US about training in the White house of the draft decree on the abolition of sanctions against Russia.
Trump said later that it was still too early to speak about lifting sanctions against Russia.
Earlier, the White house said that US President Donald trump expects that Russia will be engaged in de-escalation in Ukraine and return Crimea.
Comments
comments