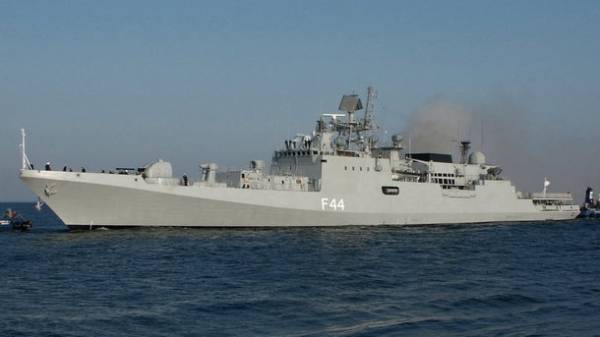 Two frigates of project 11356, built for the black sea fleet, sell India. This was stated by the Deputy Director of the Federal service for military-technical cooperation Vladimir Drozdov, transfer "RIA Novosti".
The agreement on the transfer of ships was signed in October last year following talks of President of Russia Vladimir Putin with Prime Minister of India Narendra modi. It involves the construction of two frigates to Russia, and two Indian shipyards.
Only for the black sea fleet up to 2020 it was planned to build six ships. Two ships were accepted into service, one passes the state tests.
The construction of the second three frigates stopped from-for absence of the power plant, which was supplied to Ukraine. The plant in varying degrees of readiness of the housing of the two completed frigates.
The Minister of defence of India, Manhar Parrikar said that Delhi alone will acquire and install the engines purchased from Russia frigates.
We will remind, after the beginning of the military aggression of Russia in 2014, Ukraine's President Petro Poroshenko "categorically forbade any cooperation with Russia in the military sphere," said the government. In may 2015, the Cabinet of Ministers of Ukraine has terminated the agreement on military-technical cooperation with Russia.
Comments
comments