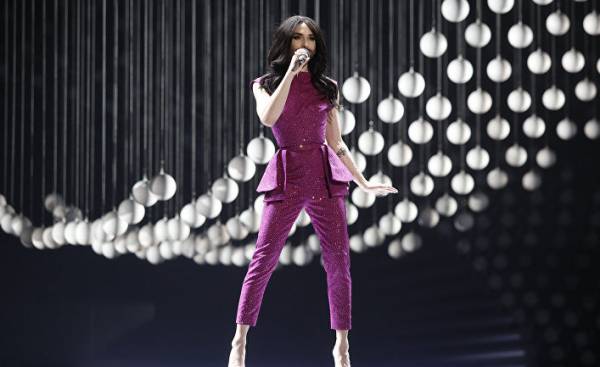 Vienna at night, the city sparkles over the Danube canal. In "the Motto", the trendy meeting place with loud music and a cosy alcoves for tables, waiter, stumbling, comes to us and pours into glasses. This is a favorite cafe Conchita. "I'm still here Jean-Paul Gaultier (Jean Paul Gaultier) fed schnitzel", — she chirps. Stylish looks — black pants, leather boots, long hair, well-groomed beard. His deep dark eyes, she literally absorbs his counterpart. When the seller Roz Ali wants to give her one rose, peacock lowers his lashes, like a lady Diana: "Better sell it, it is important to earn money".
Welt am Sonntag: let's Talk about identities. Who are You now?
Conchita Wurst: Conchita.
— It is clear. This show, on the outside you have to be Conchita.
Still, I like That and remain so. I don't want to be a woman, I love men. I love the transformation. I like it and Gauthier: he brought into the world of gay romance, and brought thick on a fashion runway. He urges us not to be boring and see what else there is in us a sort. In me definitely has a dark side.
— Then it turns out that these personalities are radically divided. Because Tom is so dark, Conchita is such a playful and easy?
Maybe. I will soon turn 30 years old and I ask myself many questions. Who am I? Why am I in this body? I created this figure, heterosexual, conservative woman who even portrayed that she would be married! This figure went through many stages of development, so I'm with her.
— What do you mean?
— At first I was really crappy when I was still on the stage of burlesque and moderated the show. I was extremely loud, and as for the humor and the art, pretty rough. I thought I was a drag Queen (Drag queen —a male homosexual who dresses as a woman — approx. transl.) and it should be. But one day I woke up here this well-mannered woman.
— Dressing up is also a flight? Because if prefer men that just want to look like those who have the right to love men, to avoid public pressure?
— Geez, the questions you ask…
— Well, since we're sitting here, you want to know for sure.
— I have always been inspired by women — a big stage, great voice, great dress. I wanted to be. As I said, I love men, but as a man. When me like Conchita flirting men, in me nothing moves. As for drag racing, I feel completely asexual. But I don't want people to call me Tom. Since I stood for hours in front of a mirror, it should be appreciated.
— When will That appear?
— At night! I live in the tower.
— And what is happening there?

— I study people. I watch documentaries on Instagram. I analyze personalities, their faces, what they wear, what they say, because I want to understand them. Sometimes I am just hungry after the performance. Then I need absolute silence. First, you need to remove makeup. Then I put on my tracksuit, sit in bed and eat pasta. I have a Tempur mattress. It is like a cloud which keeps me going, there, upstairs in my attic. My little Paradise.
— So you live alone?
— Yes, I'm a loner. This does not mean that I don't have sex. I get enough fun. But I have to say that at the moment I'm not in that situation to someone to let into your life. To be honest, if we are talking about all of the romance, at the present time I am the only person I can imagine their life together.
— How is it?
Because now I focus only on myself. I just don't want to justify anything, even if I didn't have to. I want to be independent.

— Because you from the village? Your parents there is a restaurant. When you in 2014 won the ESC, all were jubilant. But there was also the hateful comments online. What was the worst?
— I couldn't care less. Hatred does not interest me.
— Not if it was ever a moment of doubt? When you may have thought: man, what you yourself did?
— Of course, there are people who consider my statement as a provocation. But I'm not a philosopher and not depressing. And I never was. Recently I am even an honorary citizen of his village. I drag could go to the Baker.
— Because now you're a recognized star.
— Yes, now I appreciated. Then permitted and exotic. People need their secret drawers.
— Who was your idol when you were young?
— Our village was beautiful but small. My parents worked up a sweat in a restaurant, and I was focused on myself and doing my music. I was a TV child. Ariel, the mermaid, was my idol. They taught me to sing. And then I sang at home in front of the mirror in my mother's dresses. I already knew that I can become famous. It's the only thing I can do well.
— As it is when in a village where all know each other, the first time over Breakfast at my parents appear in a dress?
— I always thought women's clothes is more refined than the rags my brother, which I wore. My parents found it very amusing. All is well, but then phase changing over. The deciding factor was when I noticed that I am not the man that I must assume everyone in the neighborhood because I was interested in machines or brittle wood. Girls didn't interest me, I just liked to braid their hair in braids. In eleven years I suddenly learned the name of this feeling. It lasted a year before I could admit to myself: I am a homosexual. In the village there were people with pimply faces, was a "spectacle snake" and red, and I was a homosexual. All of us are equally teased. We were considered a kind of provocation, as second-class citizens, perverts. It is even so today. How often someone passes by and makes like he's sneezing. In fact, he hisses, "Fag". People can be terrible. You can feel safe only in certain places. Homosexuality is the devil.
— How you found your first friend?
— Every Friday in the garden house of a friend, we discussed plans for the week. All was well. My best friend was also gay, of course, we became friends. We thought we were in the village we are alone. It was later revealed that some fathers of families now also have the other. We went together to Vienna to take a walk on the weekend — Oh, if my mother read this! In Mango bar, which we knew. There suddenly appeared "fresh faces", the boys began to fight over us. You suddenly realize how it could be great! No "I have to be careful", "not watching someone?" Suddenly you can someone to admire, to kiss him, you can do anything! This homosexual clubs is so important, because there you find yourself. There I realized what to the touch freedom for these poor 60 square metres.
— At the age of 16 you have had a first test on the casting.
And then Conchita was born.
— Prince, David Bowie, played with a gender theme. Why do you make it look so circus, why don't more artistically?
Prince and David Bowie was an exceptional talent. I sang at the confirmation in the village and began his career on television. I started from where you get the money. And we need advertising.
— You have the voice of Shirley Bassey. You could just, so to speak.
I don't know. Karl Lagerfeld once took my picture and then never called. Everybody's always looking for something new. Sometimes I doubt myself if I'm good enough, and not just once. Concerning myself I'm a big realist. Bowie was the vanguard. Conchita is transient.
— So need a suit, because the one singing a little?
— Sorry, earlier it was not about singing, whether too high or too low. Today everything is so mathematically reconciled. How good, how much, who can? It is not so easy just to sing, to suffer or to tell a story. I always say: Hey, better a fake sound, but at least a little sense. It is better to take too high, but alive.
— David Bowie, at least not immediately invited to star magazine to tell his story. Your biography is also already out, before something is written only to the end of life.
— The music business today has become completely different. After the casting show immediately receive management and schedule. Earlier we were talking about long-term career, today you can be playing the comb for a night to be a star, but just as quickly disappear. Need grip and nerves, much more than before. Today you must perform. I still have maybe 20 years, so I just take everything as it comes.
— Why fame is so sweet?
Is unlimited warning: the world listens to me. Power? Narcissism? I do not know. I'm just enjoying the admiration. I love it when people are taking pictures of me. Then I'm not shy. No I will not do anything. In fact, I'm invisible.
— What you expect as an artist?
— I can imagine a lot of things to submit: audition show, I could put on people, to equip the hotel, play a movie, make a film, perhaps even about his own life. Only my role would have to play someone else. I can't even play and Volume. Maybe Meryl Streep.
— You like to act as a sort of creature in a feather boa. Why not as an emancipated woman?
Because at the end of the day I'm a homosexual man. And all supersustenance we just find beautiful.
— Do you know the song of Charles Aznavour: "You say that I'm gay?". There he sings live with his mother all the time and cooks and irons for her.

The beauty of this song I know. Great!
And in the evening he goes to the club as the artist was a transvestite. But he wasn't interested in boys, because he's too old. And then there's this picture of an aging transvestite. Yes, that is sad. I know, I know very well. There is this wonderful film "Paris is burning" ("Paris is Burning") on the life of drag Queens. I know a few boys. They assume the torment, the agony. Shave to burn is the least.
— You used Tucking, or are You wearing spanx?
You mean Tucking? Yes, You are well versed.
It is a technique of dragon for intimate places. After shaving testicles are pressed into the body, and the penis is glued between the buttocks. It is almost impossible to sit, sweat, and then the patch falls off. Go to the toilet is simply impossible. I would never survive. Some wear up to six pairs of pantyhose and stick the sponge to get more feminine hips. I have great respect for Graham. I never claimed that I'm a real drag Queen. I'm too sensitive to pain, and lazy to shave. That's why I left my beard.

— But your lips done?
— As you said? Yeah, I made one operation. I cut back the roots and planted again in the front. But that's all. In 20 years, I wanted to reduce his Persian nose, but now I am quite peacefully coexist with him.
— Where do you keep your wigs?
— I have a huge wardrobe. On one shelf stands head and looks at the wall. I don't see her face. She has no right to look at me, otherwise it will be too much for me live.
— Can you imagine that the phase Conchita someday? And then you take away all of the costumes, like Elton John?
— Or sell! Someday it will happen, Yes. I don't know when. But I have a feeling that I want to create a new identity. Probably not me. But with a bearded woman after winning the contest I have done it all. I don't need her.
— In Instagram your hair short…
— I dress up like a man. That today I sit here wearing shoes without a heel, a year ago would have been unthinkable! I'm searching for, Yes. These days I ask myself more often than before. I'm looking for something that I'm really good at. I can do a little of everything, that's my problem. What is my gift? And who am I? I'm looking for myself. And Tom is rebelling. He's so loud.
— What did he say?
— That he wants out, to show himself, he lives like a child of the dungeons. But I have to. I was that man who thought he was too feminine. To dress I learned to imagine that this is true, because it suddenly came to me. I have for too long been someone else. Does this make happy? And what I want?
— Yes, what?
— I want to know why I look at the world through these eyes. Why am I the only person who can't see me. I see myself in the mirror, but I can't sit there and look at myself. And then I ask myself: do people see the same thing? And, for example, greens — just greens? Maybe I'm crazy. Anyway, I would love to sit opposite himself. Who am I? In fact, we are talking only about myself.

— What happens with Conchita?
— I have to kill her.
Comments
comments