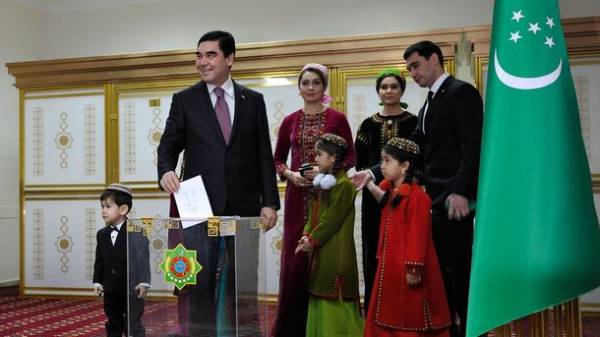 The current President of Turkmenistan Gurbanguly Berdimuhamedov brilliantly won the presidential elections held on 12 February. According to the local CEC, the former dentist took 97,69% of the vote, with a turnout of 97,27%. As stated by the head of the Turkmen CEC, all of the ballots were cast for Berdimuhamedov, and the remaining 2.5% is considered spoiled.
According to "Radio Azatlyk" (the Turkmen branch of "Radio Liberty"), the election of the President of Turkmenistan from the very beginning was called "a foregone conclusion", and observers predicted a victory Berdimuhamedov despite the fact that the campaign involved eight candidates. The journalist of the radio station was information about pre-prepared bulletins with the mark in the column for the incumbent, who had to throw in the ballot box after the polls close. At the same time, beating a few sites in Ashgabat, the journalist stated that there were almost no voters.
A journalist from Reuters was able to learn the views of local residents about the candidates. "Berdimuhamedov successfully struggles with drugs and promises to provide free housing to the disabled," said, for example, a health worker Zohra. "It's personal, and it is unlikely to affect the election results, because all the other candidates are little known," said the taxi driver prevail.
Comments
comments