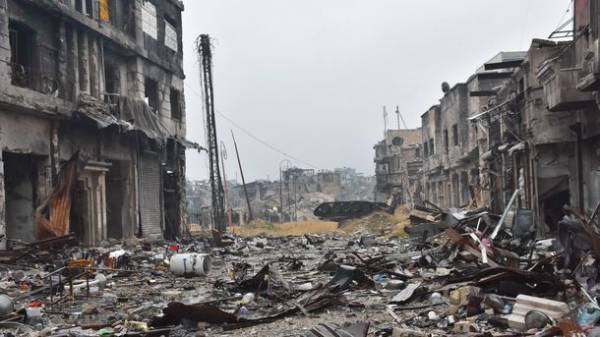 Russia remains actively engaged in the war in Syria, trying to regain a leading role on the world stage and break down what the Russian Minister of defense Sergei Shoigu, recently named the "chain of "color revolutions" spreading in the middle East and Africa". But only 20% of Russian air strikes in Syria in 2016 fell on the positions of the "Islamic state". For comparison, Turkey in 73% of cases bombed ISIS, and the coalition of the US and the EU is 94%.
This is referred to in the third edition of the report "Post-Truth, Post-West, Post-Order?", published on the eve of the 53rd Munich security conference.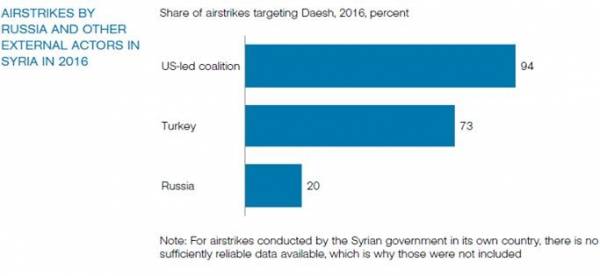 Airstrikes Russia and other countries participating in the settlement in Syria in 2016. *Airstrikes conducted by the Syrian government, was not included because there is not enough reliable data
"In recent months, there is no observed clear results on the battlefield, and a diplomatic solution remains elusive. None of the three agreements on the cease-fire did not last long enough to continue negotiations on the peaceful settlement. Since September, three resolutions of the UN security Council had failed because of the veto of Russia and China. After six years of empty calls for Assad crossed the red lines and laws without any consequences, resign, useless meetings of the UN security Council, the international community was neither a step closer to a political settlement," – said in the report.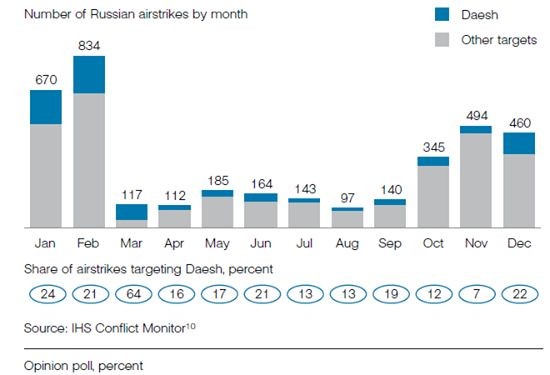 Monthly number of Russian air strikes in Syria
With the support of Iran and Russia, President Assad has recently reached its most significant victory: with the fall of Aleppo, the regime controls the four main cities.
"Moderate opposition forces greatly weakened after Turkey stopped its military assistance to rebel groups in Aleppo and went to the rapprochement with the Kremlin. At the same time, the attention of Saudi Arabia and the UAE moved on to the events in Yemen, which further strengthened the position of Assad. The people of Syria have paid a devastating price. More than half of residents were forced to leave their homes. The total number of deaths according to different estimates increased to 400 thousand people", – written in the document.
Recall from 17 to 19 February in Munich (Germany) will host the annual 53-I the Munich conference on security. This year at the site international conference will gather more than 500 participants and 120 government delegations, including the Vice-President of the USA Mike Pence and Secretary of defense James Mattis. Speech by the President of Ukraine Petro Poroshenko.
According to the Chairman of the Munich conference Wolfgang Ischinger, the conference participants will discuss three key issues: the future of the EU, West and NATO.
Comments
comments