Budapest wants, but he can't stop interjecting Ukraine spoke in the wheel of Euro-Atlantic integration
Kiev hopes that Budapest will unlock the possibility of Ukraine's integration with NATO, but Hungary has its own terms.
This was stated by the foreign Ministers of the two countries after talks in the Hungarian capital on may 29.
"We hope that will be restored full support for Hungary Ukraine into NATO", – says the head of the Ukrainian foreign Minister Dmitry Kuleba on his Twitter page.
He assured that the authorities in Kiev intend to "work for the General result" and promised to support the Hungarian initiative in the region because Ukraine "also refers to the Central European family."
"There is no objective reason for us to have been any significant problems," he says.
However, his Hungarian counterpart péter Szijjártó with him is unlikely to agree. As reported by "European truth", he is reminded of the requirements of the Budapest for further rapprochement between Ukraine and NATO.
"Hungary is waiting for the decision of problems with the issue of education and the law on the use of the state language", – said the Hungarian Minister, promising that after that Budapest will cease to put a spoke in the wheel of Euro-Atlantic integration of our country.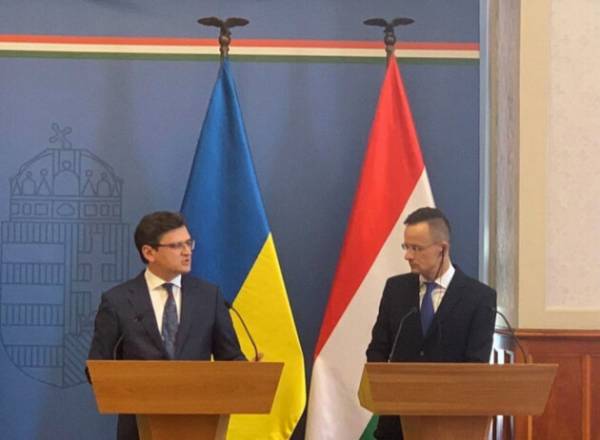 Dmitry Kuleba, and péter Szijjártó / Photo: Ministry of foreign Affairs of Ukraine
However, as assured the Minister of foreign Affairs of Hungary, his country wants to stop the lock, but only after reaching a consensus with Ukraine.
"We want to close all discussions related to the law on education and the language and wish to achieve a solution that will be acceptable for Hungarians in Transcarpathia", – he added.
Recall that Hungarian trip Kuleba was his first nevertalked foreign visit since his appointment in March. Because of the ban on air travel all the distance from Kiev to Budapest he traveled by car.
Language conflict in Ukraine and Hungary lasted for a year or Budapest dissatisfied with the fact that the Hungarian community in Transcarpathia are forced to learn the Ukrainian language and requires the adoption of a law on national minorities.
Comments
comments