The invitation of the President, the Minister of foreign Affairs of Ukraine handed over to the Hungarian Minister Szijjártó
President Vladimir Zelensky invited to Kyiv with the visit of Prime Minister of Hungary Viktor Orban. The invitation was handed to the Minister of foreign Affairs of Ukraine Dmytro Kuleba, who is currently on a visit to this country.
As reported on his page on Facebook the Ukrainian Ambassador to Hungary Love Nepop, Kuleba conveyed an invitation to his Hungarian counterpart péter Szijjártó and hoped that the visit of Orban could take place in July.
"It's time to flip all the pages that separate us and to redouble our efforts in the interests of our peoples, countries and continent as a whole", – said the Ukrainian diplomat at the press conference.
In turn, the head of the Hungarian foreign Ministry confirmed that the goal is to reach agreement.
Nepop also reported that the foreign Ministers signed a Protocol between the governments of Ukraine and Hungary on amendments to the Framework contract on loan provision and the Memorandum of understanding between the state Agency on energy efficiency and energy saving of Ukraine and the Ministry of innovation and technology Hungary.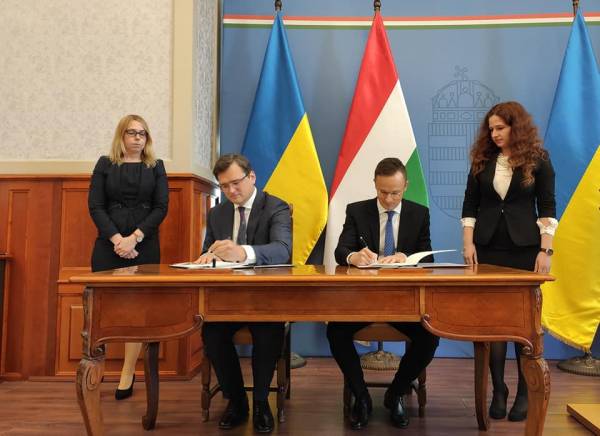 The relationship of Budapest and Kiev escalated after the adoption in Ukraine of the new law on education, which clearly defines that the Ukrainian language is obligatory for all authorities and public organizations, as well as required to study representatives of all national minorities. Hungary expressed concern that new Ukrainian law may infringe on the rights of the Hungarian minority in Transcarpathia. According to Budapest, it violates the basic principles of the European Union and the Association Agreement of Ukraine with the EU. In turn, the official Kiev said that fully guarantees the protection of rights of national minorities, the law on language extends to play an important role in Ukrainian society. Zelensky, in turn, demanded justice for national minorities in Ukraine.
As reported "Today" in early December, 2019 Ambassador of Hungary Istvan Igarta said that his country would continue to block the work of the Council Ukraine-NATO, because it considers the adopted law on education violate human rights. In turn, the Minister of foreign Affairs of Hungary Peter Siarto stated as soon as the Transcarpathian Hungarians "again will get taken from them, rights", Budapest, as before, will support Euro-Atlantic integration of Ukraine. In February of this year, Ukraine rejected the proposal of Hungary on the language issue.
Comments
comments