The head of state every discussed cooperation of Ukraine with their countries
President Vladimir Zelensky again received letters of credence from foreign diplomats, this time on Bankova street, he met with the ambassadors of Turkmenistan, Palestine, Portugal, and Azerbaijan. At the same time he discussed with them cooperation between Ukraine and their countries, the Office of the President.
Zelensky Point by atelim
The President welcomed Ukraine 's Ambassador Ataeva of Turkmenistan Toila. They noted the interest of their countries in the intensification of political, trade-economic and cultural-humanitarian cooperation. Special attention was paid to strengthening cooperation in the construction industry. The President of Ukraine expressed hope that the spread COVID-19 will not prevent the planned intensification of the bilateral dialogue. Through the Ambassador, the Ukrainian leader and handed to the President of Turkmenistan Gurbanguly Berdimuhamedov's invitation to visit Kyiv.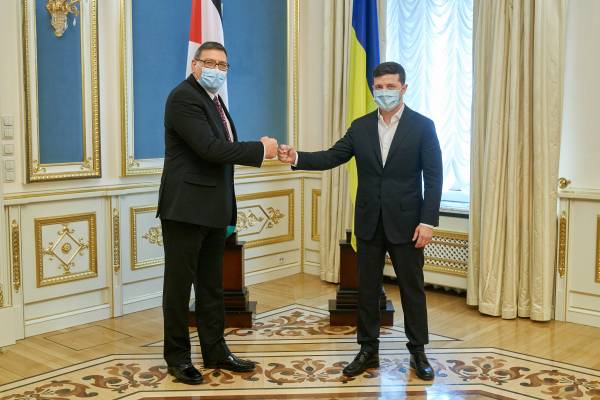 Zelensky Hassan al Dajani
With the Ambassador of Palestine HaShem Hassan, Dajani Zelensky discussed the current state and prospects of bilateral relations, noting in particular the importance of further enhancement of trade-economic cooperation between the two countries. The head of state reiterated that Ukraine remains a leading supplier of food products and agricultural products in the Palestinian market. The parties noted with satisfaction the successful development of cooperation in the field of education, great contribution in training of national specialists for Palestine.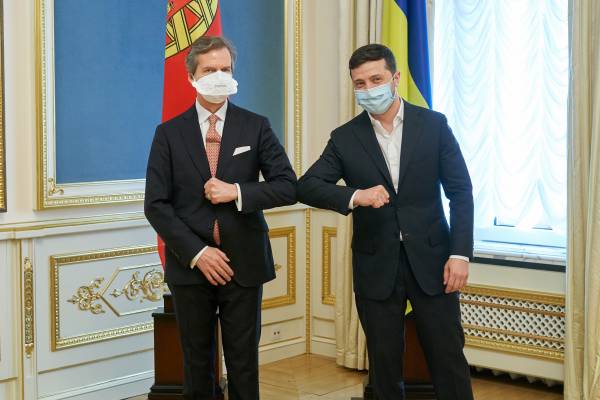 Zelensky Antonio Machado
The Ambassador of Portugal antónio Machado Zelensky thanked for the support of his country to the territorial integrity of Ukraine and sanctions against Russia. The President said Portugal is an important partner of Ukraine in the framework of cooperation with the EU and NATO and expressed hope for fruitful cooperation with the Portuguese presidency of the EU Council in the first half of 2021.
The sides noted the important role of the Ukrainian community in Portugal in the development of relations between the two countries. In this regard, Zelensky acknowledged the support of the Portuguese party in the provision of cultural needs of Ukrainians in this country. Separately, Zelensky pointed to the importance of fair investigation into the death of a citizen of Ukraine Igor Gomenyuk Lisbon airport and bringing to justice those responsible for this tragedy.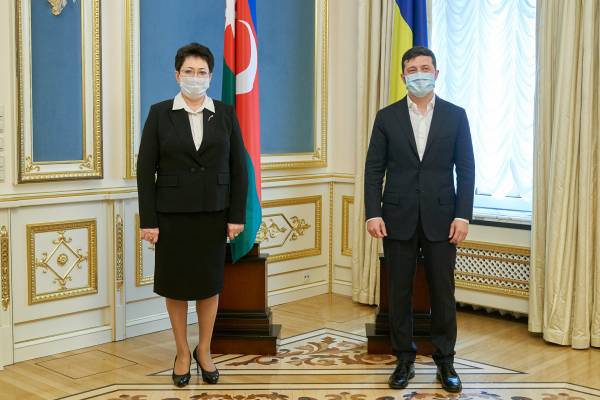 Zelensky Elmira Akhundova
With the Ambassador of Azerbaijan Elmira Akhundova , the President of Ukraine noted the dynamics and practical content of the Ukrainian-Azerbaijani strategic partnership. He highly appreciated the friendly gesture of the President of Azerbaijan Ilham Aliyev and all Azerbaijani people in the form provided to Ukraine on may 21 humanitarian assistance to overcome the pandemic coronavirus.
Vladimir Zelensky emphasized the traditionally successful cooperation between Ukraine and Azerbaijan in the international arena, and noted the need to give further impetus to cooperation in GUAM format. Stressed the importance of further strengthening trade-economic and investment components of the bilateral cooperation, in particular through the practical implementation of investment projects in Ukraine with the participation of Azerbaijani business. About this the other day Zelensky spoke with the President of Azerbaijan.
Comments
comments