Experts told no fakes should be expected in the near future, and how to protect yourself from their influence
When at the beginning of the year, the coronavirus has become a key information occasion, it is immediately overgrown with fakes and myths. Some harmless, absurd and ridiculous, others potentially dangerous to life and health of people. According to experts, today the myths associated with the pandemic and used for political purposes. In particular, fakes of coronavirus spreads Russia. As karnataki became a weapon of propaganda, let's see in this publication.
5G and coronavirus: how memes went to unfounded anxiety
Recently finished collecting signatures for a petition on the official portal of Cherkasy city Council. Necessary for consideration of 250 signatures collected was just over two weeks – from 5 to 20 may. Require signatories not to introduce 5G technology in Cherkasy until its safety has not been confirmed clinically.
Screenshot: Collecting signatures against 5G in Cherkasy completed
Interestingly, in parallel, on the same site is gaining popularity the petition demanding the opposite – to introduce advanced technology in the city.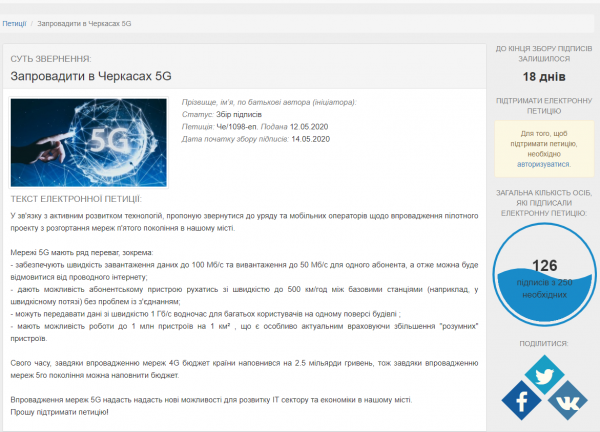 Screenshot: the petition calling to implement 5G technology in Cherkasy
Comments
comments