How to make cheese souffle: the best recipes air dessert
Today, 16:15
Recipes for tasty cheese souffle
Irina Peacock
the editor of the Food
The soufflé is delicate and airy dessert that can be easily prepared in your own kitchen. Most useful souffle – cheese. It can be baked in the oven or a slow cooker, cook for a couple, or with gelatin. The main thing – to wipe cottage cheese through a sieve, then the soufflé will turn out airy, light, without lumps.
Cheese souffle with gelatin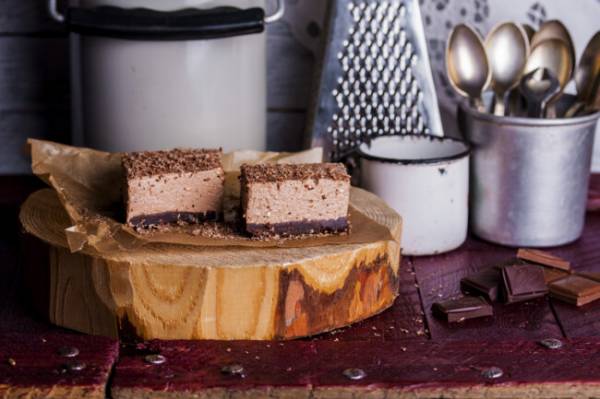 Souffle from cheese and chocolate Photo: Depositphotos
Cooking time:
Ingredients:
For the souffles:
300 grams of cottage cheese pasty
200 ml cream 33-35%
100 g of chocolate
1/4 Cup powdered sugar
1 tbsp gelatin
4 tbsp water
50 ml Amaretto liqueur
For the basics:
100 g butter
200 g chocolate chip cookies
Method of preparation:
Grind biscuits into crumbs, melt the butter. Pour butter into crumbs, mix thoroughly. The bottom of a split form (20 cm in diameter) lay a parchment. Lay a base of biscuit, flatten, put into the refrigerator.
Melt in a water bath chocolate, add it to the curd, add powdered sugar. Mix with a mixer until smooth.
In separate container whip cream.
Gelatin to dissolve in hot water. Pour a thin stream in a cottage cheese and mix well. Add Amaretto and cream. Stir again thoroughly. Put the souffle in the form and put in the fridge overnight.
Decorate souffle to your liking, for example, sprinkle with grated chocolate. Cut into portions pieces and serve.
Cheese soufflé in a slow cooker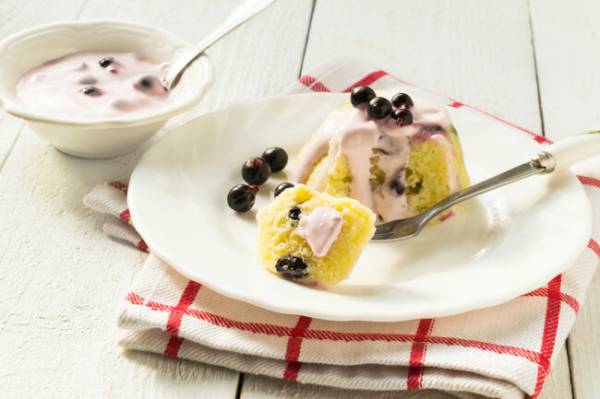 Cheese souffle: recipe Photo: Depositphotos
Cooking time:
Ingredients:
500 g of cottage cheese
1 Cup milk (240 ml)
3 eggs
1/2 Cup sugar (125 g)
1/4 Cup semolina (45 g)
Greek yogurt and berries or fruit for decoration
Method of preparation:
Proteins separated from the yolks.
Cheese, milk, yolks, and sugar grind in a blender until smooth.
Add the semolina, mix well.
Separately beat the whites until resistant peaks.
All combine and mix on low speed of mixer.
Pour into a mold. Bake in multivarka on mode "Par" for 35 minutes.
Ready souffle to cool in the refrigerator for 3-4 hours.
Want to cover the Greek yogurt and decorate with berries or fruit.
Cheese souffle for a couple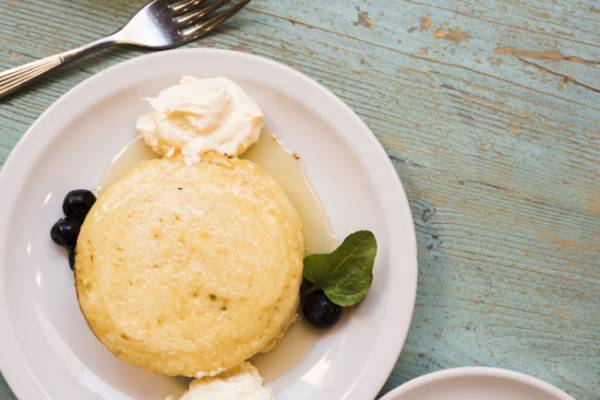 Soufflé cheese on a couple of Photos: freepik.com
Cooking time:
Ingredients:
250 g of cottage cheese
50 g cane sugar
5 g of vanilla sugar
2 eggs
2 tbsp cream
1 tbsp semolina
Method of preparation:
Split eggs on whites and yolks. Blend cheese, sugar, vanilla sugar, cream, semolina and egg yolks.
Separately, whip the whites. Carefully, portions, fold in the whites into the cheese mass, making the spatula movements from the bottom up.
Take a soufflé for six silicone molds. Put the cheese mass into molds.
Steam for 20-25 minutes. If desired, when serving, pour the berry or chocolate sauce.
Cheese souffle in the oven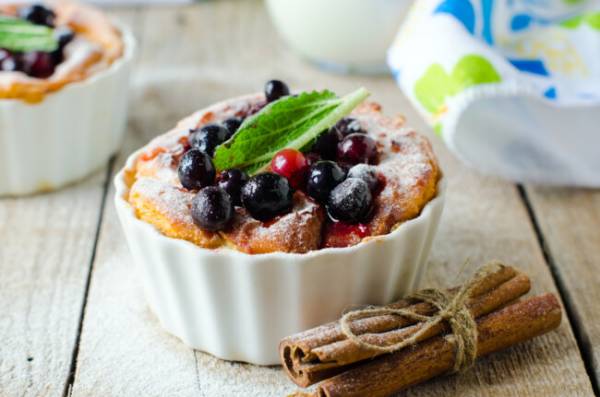 Souffle in the oven Photo: Depositphotos
Cooking time:
Ingredients:
300 g of cottage cheese
1 egg
25 g semolina
40 g milk
20 g melted butter
60 g sugar
A pinch of salt
Method of preparation:
To get air soufflé, whip the yolks and the whites separately. Pre-soak semolina in warm milk until whipped eggs.
Beat the yolk with half the sugar in the foam. Protein also beat up with salt and other half of sugar in a solid foam.
Mix the beaten yolk with cottage cheese, semolina and oil. Gently fluff and mix the whipped protein.
Molds for baking grease with butter and sprinkle with flour. Fill with the cheese mass by 2/3 and put in heated to 180 C oven for 20-25 minutes.
Cheese souffle dietary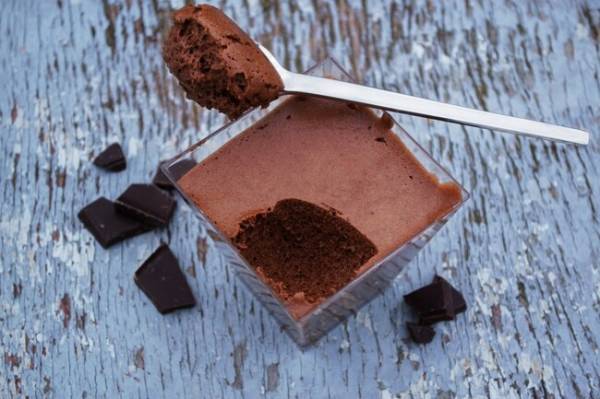 Cheese souffle with chocolate Photo: Pixabay
Cooking time:
Ingredients:
20 g gelatin
1 Cup of cold boiled water
100 ml of milk
2 tbsp dark cocoa powder
2 tbsp. honey
300 g of cottage cheese
Method of preparation:
Gelatin, pour a glass of cold water and leave for half an hour to make it swell.
Add milk, cocoa and honey, stir.
To put on weak fire and to heat up until cocoa does not dissolve completely. Do not boil! Add the cheese, stir.
Grind all the ingredients using a blender into a homogeneous mass.
Pour cheese-chocolate soufflé forms and place in the refrigerator for several hours or overnight.
Earlier, we told you how to prepare sour cream with condensed milk and chocolate cream. Today.Lifestyle also shared a lemon souffle recipe from Martha Stewart.
Comments
comments