Benefits of spinach for health: the response of a nutritionist Svetlana FUS
Spinach is especially important for pregnant women and athletes
Irina Peacock
Today, 15:07
Spinach is very useful, but not too popular leafy vegetable. We use it not often, and for good reason. The French call spinach "broom for the stomach". Adding to the menu this greens, you will increase the nutritional value of the diet and benefit to the body.
The benefits of spinach for health, and also about who use it is not necessary, said the nutritionist Svetlana FUS in a post on his page in Instagram.
Raw spinach: health benefits
Raw spinach is rich in fiber and vitamins Photo: Depositphotos
Spinach contains many nutrients and minerals: chlorophyll, beta carotene, folic acid, Vitamin E, C, K, PP, group b, as well as potassium, phosphorus, magnesium, copper, zinc, iron. By the way, when the body's inadequate supply of iron, vitamin B12 or folic acid, can occur with iron deficiency anemia. ⠀
Often at risk are pregnant. Iron deficiency not only affects women, but affects development of the fetus.⠀
Fresh spinach leaves are rich in several important antioxidants – beta-carotene and vitamin C, and polyphenolic antioxidants, lutein, zeaxanthin and beta-carotene. Together, these compounds are free radical scavengers that play a role in the aging process and the development of various diseases.⠀
Spinach, like any other greens, adds to the diet of substances that normalize the condition of the vessels, affect the process of hematopoiesis, have antioxidant and antitumor activity.⠀
The harm of spinach for health
Our diet should be varied. Therefore, one of spinach as a source of iron, enough to balance the ration.⠀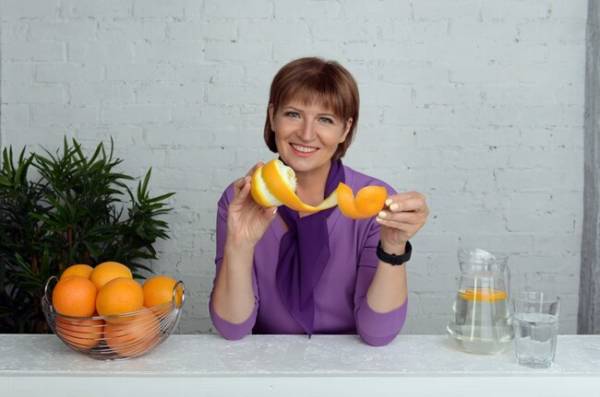 Nutritionist Svetlana FUS Photo: instagram.com/dietolog.fus
Remember, any product can negatively affect your health, if you eat it regularly in large quantities, so Svetlana FUS recommends that you eat spinach 2-3 times a week. It is also worth noting that spinach contains oxalic acid, which is contraindicated for people with kidney disease and gout.
How to eat spinach raw: recipes
Raw spinach is most often used for salads and drinks in a blender. We will show you how to make iron-rich salad and a smoothie for cleansing the body.
Vitamin salad of spinach with Apple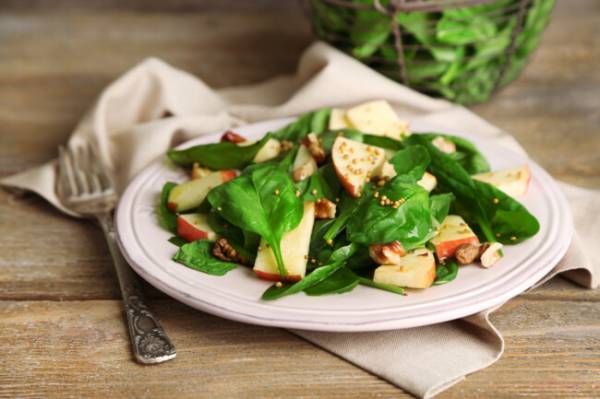 Spinach salad with Apple Photo: Depositphotos
Ingredients:
2 green Apple
A handful of young fresh spinach
30 g walnuts
2 stalks of celery
50 ml natural yoghurt or sour cream
1 tbsp mustard bean
Olive oil
Pepper
Method of preparation:
Remove core from apples and slice them in cubes. Add the spinach leaves and thinly sliced celery.
Nuts grind in a coffee grinder and add to the salad along with mustard beans.
Fill a small amount of olive oil and sour cream.
Stir and season with black pepper.
Smoothie of spinach with Apple and kiwi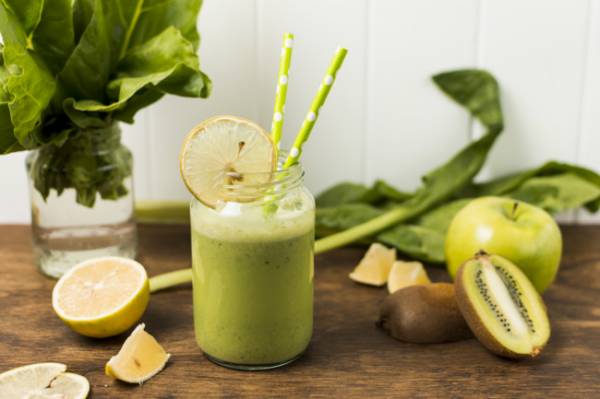 Green smoothie: photo Photo: freepik.com
Ingredients:
200 ml of bottled water
2 kiwi
1 banana
A handful of fresh spinach
1 tbsp Chia seeds
1 handful of cashew nuts
3 sprigs fresh Basil
Method of preparation:
Kiwi and banana peel and cut into slices, spinach wash and dry.
Fold in the blender kiwi, banana, cucumber, Basil and spinach. Pour some of the water and whip.
Gradually in small portions add water to obtain desired consistency.
Earlier, we told you what oil is best added to food recommendations Svetlana Fuss.
Comments
comments