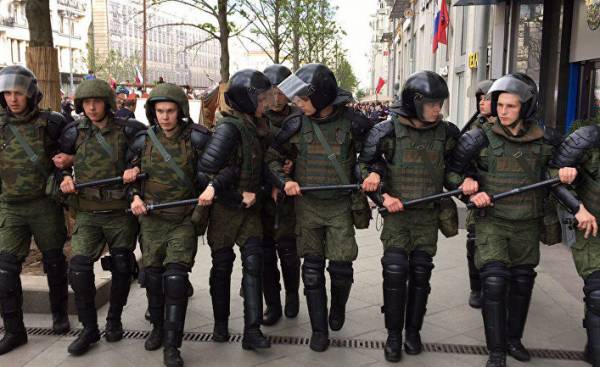 And we must enjoy the wonderful football festival in Russia? The Putin regime responds harshly to protests against the unprecedented corruption in the last 200 Russian cities. Peaceful and unarmed demonstrators are being beaten and detained.
The human rights organization "Open Russia" informs about 1700 detainees. The most popular opposition politician Alexei Navalny had been detained before the protests and after a brief process sentenced to 30 days in jail.
Meanwhile, videoconferencing Putin continues to bombard civilians and the Syrian opposition forces against Assad. Almost nobody talks. Talking about it as little as and the continuing violence by Putin's soldiery in Eastern Ukraine and the relentless persecution of critics, as well as the Crimean Tatar minority in annexed Crimea.
And as if all this does not exist, the end of the week in St. Petersburg will host the opening of the confederations Cup, a dress rehearsal for the world Cup 2018 in Russia. Since (exactly!) Saudi Arabia began to accuse Qatar of supporting terrorism, the whole world discusses about whether or not to withdraw the submitted middle Eastern Emirate's right to host the 2022 world Cup.
Disregard of international law and human rights
About the upcoming championship in Russia, such debates are not conducted. And this despite the fact that the Kremlin has been convicted in the state program of doping, and in the course of construction is intended for the championship stadiums for at least one of the facilities have been hired, that is slave labor the North Korean workers.
The world community has learned nothing even doping of the 2014 Games in Sochi, during which the master of the Kremlin, by his own admission, ordered to Annex Crimea.
Despite it all, international sports and business community, and with them, the Western political elite seems to have decided to reward the Kremlin regime over its illegal and brazen behavior, happily taking part in the next prestigious project.
They don't mind the fact that it will allow Putin to have fun regarding any protest against the disrespect of international law and human rights. Because the whole world shows him his part, that still perceives Russia as a "normal" country and a valuable member of the international community, in spite of such criminal behavior.
But he who has not lost conscience — political and moral — cannot enjoy the football on the background of injustice.
Comments
comments