MPs have collected the necessary number of signatures to convoke
On the eve of the speaker of Parliament Dmitry Razumkov announced an extraordinary meeting on 12 may. But the opposition decided to convene the deputies in the Verkhovna Rada on may 7 to resolve the "medical" issues. This was reported in your telegram-the people's Deputy from "European solidarity" Alexey Goncharenko.
According to him, even collected the required number of signatures for convening an extraordinary meeting.
"On Thursday 7 may will be an extraordinary meeting of Parliament on the demand of 157 deputies. The initiator is a faction of "European Solidarity". Agenda – bills 3376 and 3380 on the social protection of doctors, including their compulsory state insurance in case of infection or death from COVID-19. The first session will be held at the request of the opposition (of the 157 signatures 4 "servants")", – I wrote to Goncharenko.
At the same time, the leader of the faction Petro Poroshenko brought in Parliament MPs ' signatures for registration for convocation of the meeting.
"At this very important meeting, the Parliament should consider the insurance of doctors in case of coronavirus and free mandatory testing for COVID-19. Today is scheduled to register (for the treatment of MPs. – Ed.) and within 72 hours, an extraordinary session of the Parliament should be convened," – wrote he in Facebook.
The former President noted that the draft law on insurance provides that if a physician fell ill while carrying out their duties, then the insurance sum will make not less than 200 thousand hryvnia. In case of death of the medic from COVID-19 the family must receive at least 1.5 million.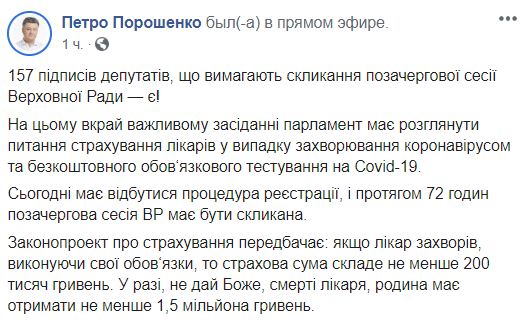 As reported "Today", in "the Servant of the people" said that the extraordinary meeting scheduled for 12 may. On this day members want among other things to accept banking act.
Comments
comments