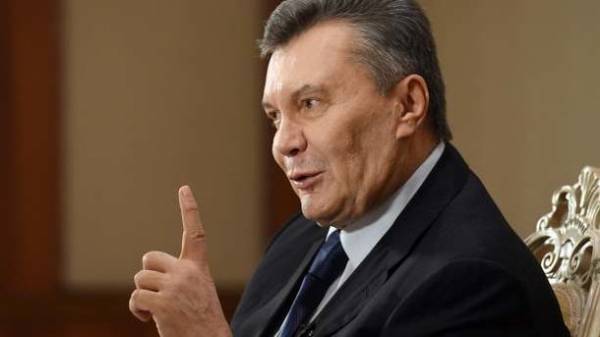 The former President of Ukraine Viktor Yanukovych during his reign, together with his associates withdrew from the country about the annual budget of Ukraine. This was told on air of TV channel "112 Ukraine" by the chief military Prosecutor Anatoly Matios.
According to him, investigations into all of the stolen money will take a long time.
"In order to investigate to every penny it takes years. But we orientirueshsya that the total for this entire period, 4 years, the whole company where the annual budget was stolen – in UAH at the rate of 8 (hryvnia per dollar. – Ed.)", – said Matios.
SEE ALSO
In Europe arrested half a ton "of gold Yanukovych"
As previously stated in the General Prosecutor's office, during the presidency of Viktor Yanukovych Ukraine had stolen about $ 40 billion. Deputy Prosecutor General of Ukraine Yevhen Yenin said, how were the schemes of withdrawing funds from the country.
In turn, Prosecutor General Yury Lutsenko declared that ex-colleagues of the guarantor's former Minister of income and fees Alexander Klimenko and a businessman Sergei Kurchenko, who is their activities caused losses to the state at 198 billion hryvnia. He noted that this is not all the stolen money.
SEE ALSO
Yanukovych called for a war: the examination yielded a surprising finding – the court
June 29, in court on charges of treason Yanukovych was read the indictment for aiding Russia's annexation of Crimea and military aggression against Ukraine. According to the indictment prosecutors, the former guarantor of the actions caused damage to the country during the occupation of the Peninsula at 1,8 trillion UAH.
We will remind, Yanukovych is accused of treason, of aiding the authorities of the Russian Federation, intentional acts committed for the purpose of modifying the boundaries of the territory and the state border of Ukraine in violation of the order established by the Constitution, waging aggressive war, crimes under part 1 article 111, part 5 article 27, part 3 of article 110, part 2 of article 437 of the Criminal code of Ukraine.
Comments
comments