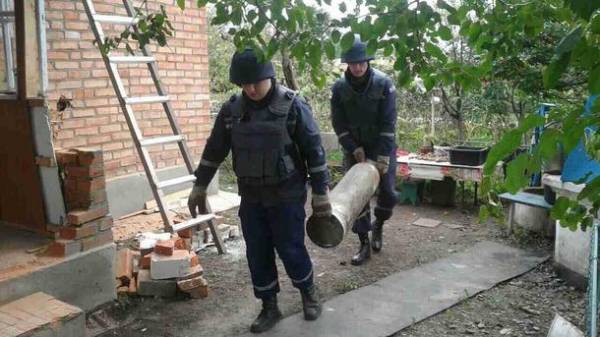 After the close of Kalinovka of Vinnytsia region was quiet explosions at an ammunition depot, the authorities have estimated the damage by the disaster. And the residents of nearby villages started talking about the looting and earnings on their grief.
As told "Today" Vinnytsia police for help addressed to militiamen more than 50 people, whose houses, gardens and streets fell but did not explode the shells. Local authorities estimate that the exploding ammunition damaged more than 70 buildings. Despite this temporarily evacuated citizens have returned to their homes. In the village and surrounding villages such counted more than 20 thousand people.
"We are afraid that looters had stolen everything that had to leave," said us returning. The fact that in the village these days was stolen, as it was confirmed in the police. "We are talking about theft of money. We will investigate the circumstances under which they happened," — told us in the press service of the Vinnytsia allpolicies.
Residents nearest to Kalynivka village Pavlivka told "Today" that in these days when the roof of their house broken shells, they are acutely aware of the cold. "We brought the slate, said that he would have to pay 6 thousand UAH. Damaged doors, Windows. Came to us, did an inventory of the condition of the house and all muffled! The house is cold, the children are freezing. For us, the amount is very large," says the mistress of the house №12 along the street mizyakivs'ka Natalia Vdovichenko.
The speaker of the Vinnytsia regional state administration Svetlana Vasilyuk told us that the story of pay slate is nonsense. "For the damaged slate, they, like all other victims, should not pay. Their issue is resolved", — toldvasilyuk. Village head of Sochi Victor kosobuckiy said the slate selected by the state for free. "Even if people bought it for the money, then after you provide a receipt, the cost of these materials it compensates," says kosobuckiy.
We will remind, on repair of all accident damaged houses (walls, Windows, doors, roof) the state promises to allocate UAH 100 million. "20 million already received," says Vasilyuk.
The cause of the explosion on articlede still trying to find out. Contrary to first assumptions, the military Prosecutor Anatoly Matios said that among the versions there are the activities of DRG. According to prosecutors, the explosion could occur due to the negligence of military personnel, improper storage of ammunition or penetration of a stranger into the warehouse.
Comments
comments