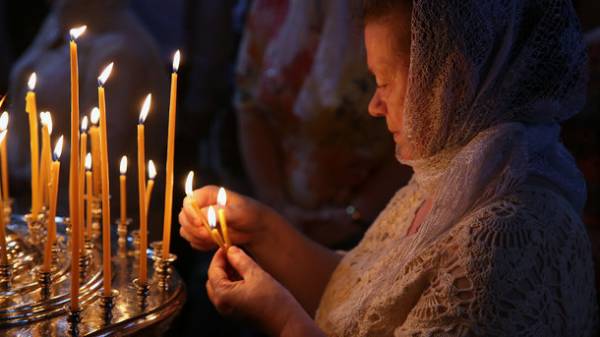 September 30, Orthodox Christians mark the feast Day of the Holy martyrs Vera, Nadezhda, Lyubov and their mother Sophia. The festival is dedicated to the three Christian martyrs, who, during the persecutions did not renounce their faith. The website "Today" I wrote about the history and traditions of the holiday, and also about what you can and cannot do in this day.
SEE ALSO
The exaltation of the cross: that in no case can not be done in the feast on September 27
The story of the feast of the Holy martyrs Vera, Nadezhda, Lyubov and their mother Sophia
According to legend, in the second century in Rome there lived a Christian a Sophia, who had three daughters. It so happened that Emperor Hadrian learned about the great faith in God this family. He called the girls to his and demanded to renounce the Christian faith. But Sophia, daughter refused to do and told Adrian about the great Savior and the eternal life of believers. After that, the Governor became angry and ordered to bring the terrible torture and execution of the sisters. At the same time, their mother Sofia did not kill, although the woman felt no less suffering than her daughter. Exhausted woman sitting two days at the tomb of the daughters, and the third the Lord sent death to her.
Interesting traditions and customs in the celebration
30 Sep decided to congratulate with the day an angel of a woman named Faith, Love, Hope and Sophia. They dedicate poems, give flowers, gifts, icons, amulets, and various sweets.
Birthday girl treat relatives and friends of the pie that they themselves baked.
Definitely women day you need to attend Church. Ask the three icons of great martyrs health, love, prosperity for themselves and their family. At the same time, Martyr Sofia asking health to a sick child, pray also about getting rid of women's diseases and on the conception of a child.
It is believed that the girl who was born on this day, will wise, just be a good housewife, a great mother and wife.
The main tradition of this day: the woman needs to cry loudly in the morning. They say that crying will drive away from home and family all the hardships, troubles, diseases and sorrows.
This day should be spent in close family circle. Share the news with family, play with children, treat them with different sweets.
What not to do in the Day of remembrance of the Holy martyrs Vera, Nadezhda, Lyubov and their mother Sofia:
Conduct loud party with alcohol
To get married – that's considered a very bad omen.
You should not do like hard work: repairs, cleaning, Laundry.
I should not argue with the people. In this day of all bad energy back to its owner.
Comments
comments