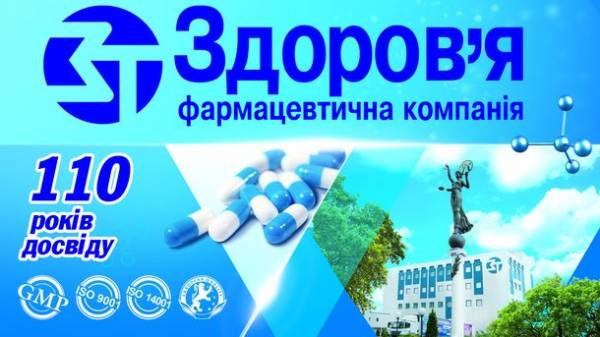 One of such socially responsible employers is a pharmaceutical company "Health": domestic parmigan took part in the September Fair, the results of which was the work of 24 young professionals.
For the company the "Health" part in the employment of graduates, while not having the experience, and therefore advantages on the market, is a mandatory part of social initiatives. One of the leading domestic manufacturers of medicines, even in the most economically unstable times gives a chance for young professionals to find a job immediately after graduation.
This fall, new employees of the company "Health" have become graduates of the National University of pharmacy (NUPh), NTU "KHPI", Kharkiv national technical University of agriculture named after P. Vasilenko, National aerospace University. N. Zhukovsky (Khai), Kharkov national University named after V. N. Karazin.
In 2017, young professionals employed in positions such as chemist, the Comptroller of the finished product, the technician manual for repair equipment, technician, mechanic technician, etc.
Eight graduates of Pharmacy, who is a specialized pharmaceutical University, was invited for the posts of process engineer, trainee engineer, master control engineer in standardization, an engineer-researcher.
Also, each employee of the company, graduated in 2017 a high school or College were paid one-time financial assistance in the amount of 3000 UAH, thus the company shows its interest in new young staff.
"Door company "Health" are always open to ambitious young professionals. After all the youth — the future of Ukraine. And for graduates, our company at all times is a prestigious place to work because we provide your employees with full social security. Every year the salary raises, the company performs all of its obligations to staff, a Union Committee. And, of course, we welcome young and spirited employees, motivated to work and develop together with our company" — said Alexander dorovskoy, General Director of pharmaceutical company "Health".
At the moment, "Health" remains one of the largest and most stable enterprises of Kharkov and Ukraine. Every year the company is included in the rating "Conscientious taxpayer", and last year was awarded "Best employer" for the creation of favourable conditions for the employment of people with disabilities and high social responsibility. This year, OOO "Pharmaceutical company "Health" is celebrating its 110th anniversary.
Comments
comments