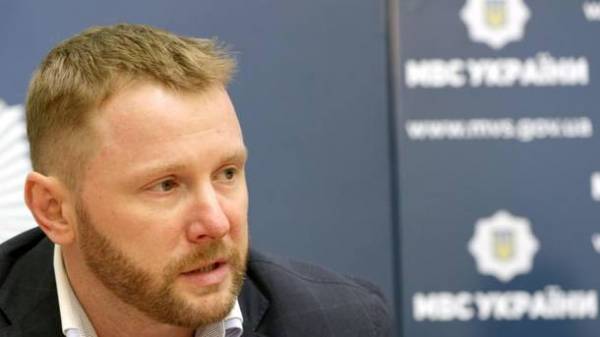 The speaker of the Ministry of internal Affairs Artem Shevchenko said that there is no legal basis to speak about the "capture" of regional councils in Western regions, since these administrative buildings owned by local territorial communities and people have every right to go in there and do everything that is not against the law.
About Artem Shevchenko wrote this on his page in Facebook.
"All the premises of regional councils belong to the local territorial communities, therefore they have every right to go in there and do everything that is not against the law. In particular to communicate with the heads of regional councils, who so hospitably invited, as Paliza Volyn in Lutsk. So I see no legal reason to scream about "capture" of regional councils in the Western regions. Only to destroy and to steal there is nothing – and you can even constantly sit there" – wrote Shevchenko.
As you know, rallies to demand the release of detainees under the Curve of the End bloodcow are held in several cities of Ukraine. In particular, in Lutsk activists entered the building yeah where they read their demands to the authorities to release all those detained under the Curve of the End up to 10 hours on 14 March. Also meetings are held in Lviv, Rivne, Vinnitsa and Chernovtsy. Calls for release bloodchild was sounded on the Maidan in Kiev.
Meanwhile, in the Department of communication of the police of the Donetsk region reported that some of those arrested in Monday blockade of trade with the occupied territories have already given explanations, and released with the rest of the police plan to work at night.
Earlier it was reported that security Service specialists of Ukraine detained in the area of antiterrorist operations 43 people with guns.
At the headquarters of the blockade of Donbass, said on the dispersal of the redoubt in crooked End by the SBU and CORD.
In the SBU said that the conduct kontrdiversionnoy events in the ATO zone.
It became known later that detainees in the Donbas people questioned in the district police.
We will remind, on Donbass lasts the blockade of the coal, with the active participation of several people's deputies of Ukraine. Upon blocking of railway lines in the Luhansk oblast Prosecutor's office opened criminal proceedings.
In turn the Prime Minister-the Minister Vladimir Groysman declared that will not allow the embargo to organize the fight against the Ukrainian people. The Prime Minister reminded that two weeks ago people risked their lives to restore the operation of enterprises in the town.
The website "Today" to find out the threat is a blockade of Donbass. According to experts, the consequences could be disastrous.
Comments
comments