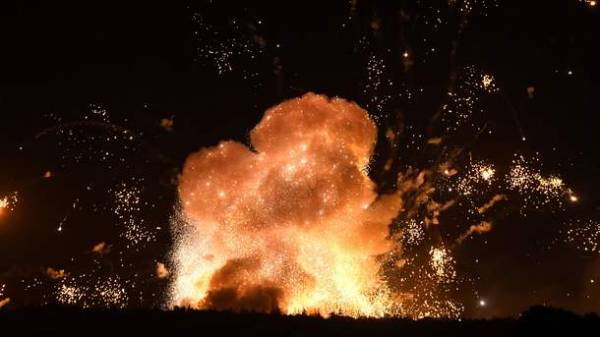 Vinnitsa driver Aleksandr Katruk, who helped evacuate trapped under the bombardment of the residents of Kalinovka, told "Today" that, together with activists helped to get out from under the bombing paralyzed woman, the relatives that were abroad, picked up on the way, just strangers.
"Got to make two trips. I took the people from the checkpoint, where they brought other vehicles. By the way, when I was taking one family, these people told me that he saw on the eve of the explosion not far from the warehouses for several hours to fly quadcopters. It's alarming," Alexander told us.
Military Prosecutor of the Central region opened criminal proceedings on the fact of emergency, suspecting that there was a diversion. The same version adhere and in the leadership of Vinnitsa rescuers. But law enforcers do not exclude that a saboteur could be someone who was working undercover.
"Given the fact that the days were heavy rains, the fire situation was not exact. Rumor has it that on this day the shepherds heard near the warehouse the noise of engines supposedly from quadcopters. So one can only assume that the cause of the explosion was external interference," — said the "Today" Vinnitsa fire.
We spotted one of the former military Arsenal. He says that the passage to the area where the explosion occurred, with matches, cigarettes, and even mobile phones were banned.
"It is therefore unlikely that the incident occurred due to cigarette, as they say in the Internet. As for quadcopters, you know that against them were attempts to take action. That has created a special defense. But ended up to do it – is unclear," said us ex-employee of the warehouse.
We will remind, in the evening, September 26, at the warehouse of artillery arms near the town of Kalynivka in Vinnytsia region there was an emergency. 20 kilometers from Vinnitsa explosions at munitions depots and weapons. As reported in gschs, the city has evacuated 30 thousand people.
All the details of the incident can be read here.
Comments
comments