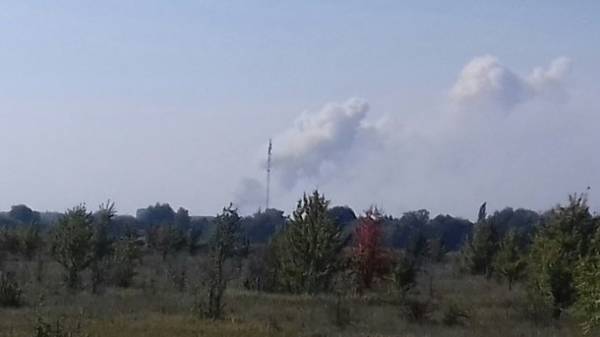 In Vinnytsia region there is evacuation of the population. According to SSES, at the moment, removed more than 30 thousand people.
"As of 10 am on 28 September, the aircraft carried out 16 SSES discharges (128 tons of water) on the fire. Pyrotechnics in conjunction with the police carried out podvorovoy bypass and execute the application from the public about the withdrawal of the discovered explosives. Made 38 applications from 73" – said the Agency.
In places the safe accommodation of evacuated population serve hot meals and medical support. Also rescuers confirmed that the disaster was traumatized 2 people who were hospitalized in medical institutions.
For the elimination of consequences of emergency situations attracted by 2350 employees and 284 units.
We will remind, in the evening of 26 September at the warehouse of artillery arms near the town of Kalynivka in Vinnytsia region there was an emergency. 20 kilometers from Vinnitsa explosions occur in warehouses with ammunition and weapons. As reported in gschs, the city has evacuated 30 thousand people.
We also learned from an employee of the Main Directorate of development and support of the material support of the armed forces Sergey Misiura about the arrest of saboteurs. Later the military Prosecutor's office denied this information.
In turn, the Cabinet decided to allocate for liquidation of consequences of explosions near Vinnitsa UAH 100 million.
As you know, the Arsenal was kept 188 thousand tons of ammunition (10 thousand conventional cars) in the area of 60 hectares. Among them rocket launchers "Smerch", "Uragan" and "Grad".
All the details on the explosions in the winery can be read here.
Comments
comments