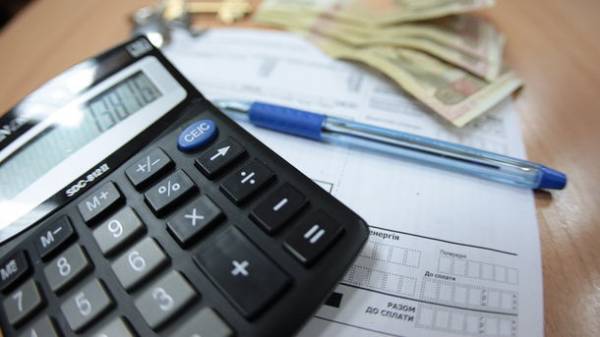 The Ministry of Finance expects the launch of a new mechanism of monetization of subsidies for payment of services during utilities. For this the government should approve the introduction of the new rules from 1 January 2018. The relevant draft is currently under public discussion, reported on the official website of the Ministry of Finance in Facebook.
"The results of the public discussion the draft decree will be submitted to the government for consideration and, if approved, from 1 January 2018 in Ukraine starts the process of monetization of subsidies, the enterprises of housing and communal services", – reported in the Ministry of Finance.
The project envisages the abolition of the clearing on subsidies, the emergence of direct billing of citizens with providers of housing services and transfer of subsidy directly under the actual consumption of resources, and not assessed subsidies.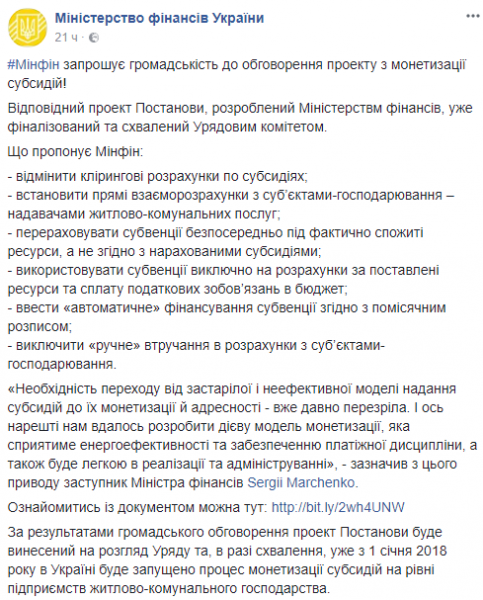 The Ministry of Finance, and also offers:
use of subsidy solely on the calculations for the supplied resources and payment of tax liabilities to the budget;
enter "automatic" financing of the subsidy according to the monthly painting;
to exclude manual intervention in the calculations with the enterprises.
The Ministry of Finance estimates, this model will contribute to energy efficiency and ensuring payment discipline, and will also be easy to implement and administer.
Recall from 1 October in Ukraine will start the process of calculating the size of the winter subsidies for payment of housing and communal services.
Comments
comments