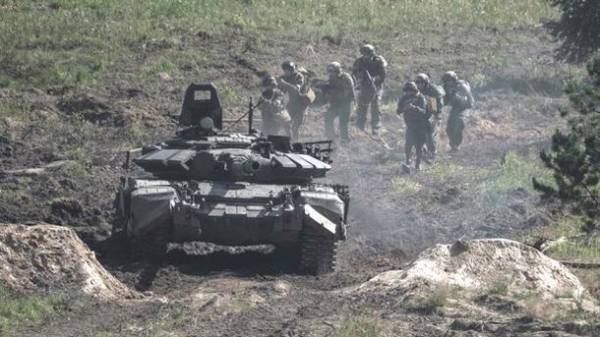 Russian-Belarusian military exercises "West-2017" was not sufficiently open to foreign observers, to verify that previously stated goals of Russia and Belarus. This assessment maneuvers gave the Ukrainian observers, the press service of the APU in Facebook.
Representatives of Ukraine are unable to fully ascertain the intentions and plans of the participants.
"The monitoring was held on the grounds of "Borisovskiy" (Minsk region), "osipovichsky", (Mogilev oblast), "Domanovsky" and "Ruzhansky", (Brest region). Visit polygon "Lepel" and "Lovedove", and terrain "Dretun" and Golubovskogo district, Vitebsk oblast was conducted. The openness of Belarus was suspended. Observers are unable to verify the true intentions when developing forms and methods of application of forces of Belarus and Russia", – informs Management of the verification of the General staff of the armed forces.
SEE ALSO
The main goal is not Ukraine: the expert explained the real challenge of the Russian exercises "West-2017"
In addition, the Ukrainian observers were denied the opportunity of communication with Belarusian and Russian military. Also the Ukrainians refused and visits to places of temporary deployment of troops in the field camps.
"The theme of the teachings and practices of the involved military units and were significantly different. Defense-related exercises for their conduct is not consistent with the plan. Troops carried out the offensive, defeated the enemy in the areas of concentration, airfields and routes for the nomination – said in Mat.
Note that the monitoring exercise was attended by two representatives from Latvia, Lithuania, Norway, Poland, Sweden, Ukraine and Estonia.
Recall that the Belarusian-Russian military exercises were held in the period from 14 till 21 September. Russia declared the exercises "only" 12.7 thousand soldiers and about 250 tanks, 200 artillery pieces, 10 military ships. Although, as was stated by the NSDC Secretary Oleksandr Turchynov, Russia has engaged in military exercises in 10 times more troops – about 120 thousand soldiers.
Comments
comments