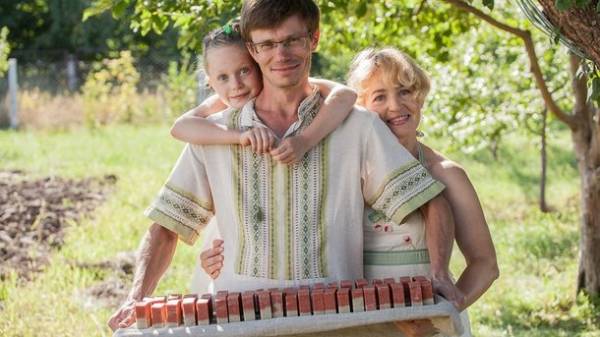 In Soviet times people often change jobs, contemptuously called "flyers": the honor was dynasty workers, doctors, teachers. Today, those who radically changed life many: talented locksmith is an Opera singer, a successful female lawyer suddenly has a passion for… a manicure, and the teacher becomes a designer of interiors.
Writer Emily Vapnik calls the people change interests and professions, multipotentiality. For such people the question "what do you want to be when you grow up?" baffled even at a tender age: because there are so many interesting things! Such people profession at some point often ceases to bring satisfaction, and the Blues. "You're a good specialist. And what awaits you on the way to the ephemeral dream?" — grumbles brain. "You have one life, don't be afraid!" advises a heart. The heroes of our stories have made their choice and have not regretted.
The coast: brews happy soap
Young nerdy mathematician Kostya did not represent for myself other way, except in the realm of logarithms and cosines. Well liked person, this science! After graduating from the faculty of applied mathematics at KPI, Constantine Black 12 years he taught in the College building mathematics and computer technology. By the time our hero has never experienced passionate love to the exact Sciences, considering them "dead". "At some point felt human in computing the limit itself, — says Konstantin. — As it often happens, soon, fate brought me together with a man who was absolutely from another world. He did paintings of the skin, and I was captivated for some time. Then for ethical reasons I stopped eating meat, and skin for the same reason, to work could not any more. So in my life for 12 years, it was the batik — painting on silk".
And then our hero decided to build his family home. Did everything myself, worked hard, and batik was neither the time nor the inspiration. "All this construction routine has led to the fact that I ceased to realize itself. And again, the case turned up: turns out my roommate is soap — says Konstantin. — It was he who introduced me to this incredibly creative and fun.
"Everything was completely new for me, — says our hero. — Trained myself on the videos in YouTube. And then just on March 8 turned up — it gives me great inspiration, made a batch of soap for gifts to relatives. These were the first wedges, frankly, unsightly. But I have "suffered", sold an antique clock with the battle, and the money bought expensive high-quality oils and other ingredients. Began to experiment, mix scents, and still had lots of fun! The first batch at the fair "Triplist Kolo" sold for a day and a half. And then everything like itself was in his hands, as if a cosmic flow! Themselves came up with new information, new people and recipes. On Andreevsky descent soap went in flight, and I was able to afford to expand production," — says our hero.
Foreigners getting to Kostina layout, clicked his tongue and buying with fly popravka. But the author flavorful masterpieces does not consider himself a businessman: he loves to read and travel with family in Ukraine. And remains convinced that starting a new business need only "love".
Customers Bones they say that his soap smells like happiness. And without a soul to create such smell is impossible.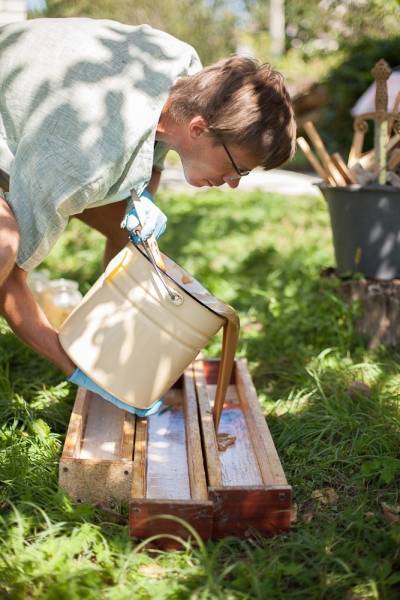 Mathematician-mylovar. Loves to mix different scents. Photo: M. Darlings
Vitaly: removed the straps, cleaning
As an officer, Kievan Vitaly Berezansky honestly served the Soviet Homeland in Germany. Back in 1993 in Kiev, realized in the civilian sector need to start from scratch. Vitaly created a legal taxi service, and later held high positions in the tourism and aviation companies, received a second education in the specialty "management". But… "Even taking a position of a top Manager, I was not sure that tomorrow my place will not take a young and ambitious man, says our hero. — Left once again without a job, understand: you need to look for a niche in which will be useful to people. And to the surprise of many decided to take… a professional cleaning. When we lived in Germany, his wife worked in this field, and I knew how to work the cleaning industry. But the main thing for me, again, was the relevance and necessity of the people."
Sold the car and bought the first equipment and household chemicals, Vitaly opened his own company. At first for cleaning, together with staff went personally wanted to test myself, to understand the subtleties of the work. Dry cleaning of carpets originally were produced in… the garage! "My son Sasha with 11 years clean carpets, — proudly says the father. Now a full-fledged production, and in the summer he and his friends works there — and of course for payment". Advertising was not the first customers were friends and neighbors. Was engaged in charity work: cleaned carpets in pediatric Oncology. Soon word of mouth has already given so many orders that they were unable to recruit people! "It is especially nice when 30-40 year old guys bought a General cleaning to my parents, — says our hero. They inspire me with their care for others. And I'm once again convinced that have chosen correct people thing."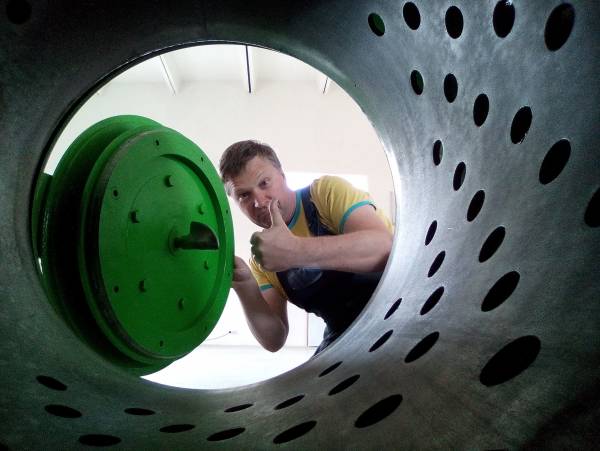 A change of course. The main thing for former military to be in demand. Photo From archive of V. Berezansky
Dima: changed the camera on the magic of the Potter's wheel
In mediatake Dmytro Stakhovsky know as a journalist and a great photographer. And suddenly… "Met a fellow student-journalist, she told how went to Opishnya — the Mecca of Ukrainian pottery, — says Dmitry. Me like an electric shock: I want to learn this! Always loved ceramics, of all the trips brought the whole house with plates-gekikame cluttered. That is somewhere in the "subcortex" this passion was sitting. A year later the dream came true: three weeks I studied at the Academy of pottery in Opishne. It was a splendid opportunity to learn a new profession and understand how serious this hobby".
Didn't stop Dima and costs for new business: only one wheel cost 3000 UAH and a kiln and did $1000 pulled! But it was then. After graduation he went to Kiev in the pottery Studio until he built a workshop in his private house. And as all these troubles have survived the wife, you ask? "Tanya was very kind to me, — Dima smiles. — I think, because I, as a marketer, fascinated by handmade of textiles, and it soon became her main occupation. And helps me with promotion — here the marketing skills came in handy. (Smiles.) How we earn money? I go to fairs and festivals there and sell".
SEE ALSO
A godsend for talented startups — crowdfunding platform
Useful to Dima and the ability to promote their creations in social networks, to make high-quality photos and spiritual descriptions of ceramics. Joined his father's hobby and the son of Markian. "He's only a year old and he already tried to sculpt. "I want Glinka, want lpete", that's "whims". Even recently made some magnets out of clay, we have them at the fair in Poland was sold."
In the house Stachowski all utensils — exclusively handmade. The revival of traditions of the Ukrainian ceramics Dmitry said, if you will, its mission: "Scoop almost destroyed traditional ceramics as art — lamented master. All these boots and fish in every sideboard mass-produced and nothing to do with art had. Only in the villages is still some time to keep the tradition." Dmitry is still in demand as a photographer, but the main lesson that brings together passion and business, said Ukrainian traditional ceramics.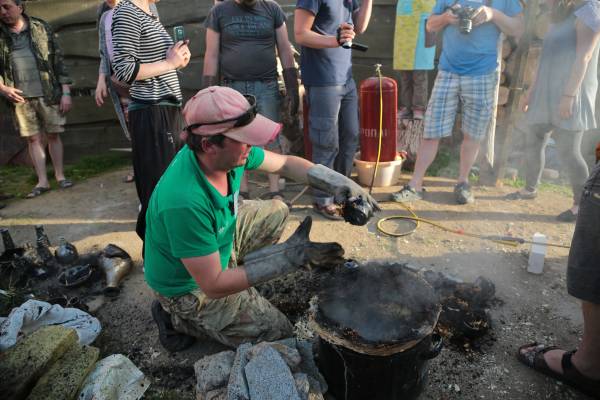 The master at work. The revival of the Ukrainian ceramics Dmitri considers his mission. Photo: archive of D. Stakhovsky
Historian bronyuk and techie Violin
Before you begin singing on stage, "Alan-Alan", Viktor bronyuk was an ordinary official. Although my childhood dream was to be an artist and even went on to study at the faculty of fine arts at teachers College. However, at the insistence of their parents did graduate from the history Department of the University, and then became a specialist of the culture Department in the management of family and youth of the Vinnytsia city Council. "But I was completely captured by the music, there was a desire to do just that!" — says Victor. Despite the lack of voice, broniuk took the risk. Passion for the beloved won, and today the "Tick" collects stadiums.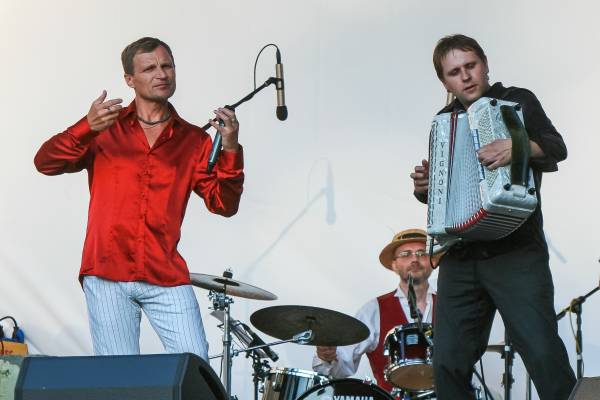 Oleh Skrypka. I worked as radiofizika. S. Nikolaev
And the leader of the band "VV" Oleg Skripka wanted to devote himself to engineering. After graduating from Kiev Polytechnic, he worked in the field of radio engineering. But youthful romance stumbled on the grim reality of Soviet production, and Oleg more time to work. And became a star!
The future of Garik Krichevsky and all was predetermined: he was born in the family of doctors. The future author of "Kievljanka" graduated from medical school and even managed to work as a radiologist. Music at first was just a hobby, but in 1992 he released the first album. It is unknown how many lost domestic medicine, but in the musical firmament star Krichevsky for 25 years.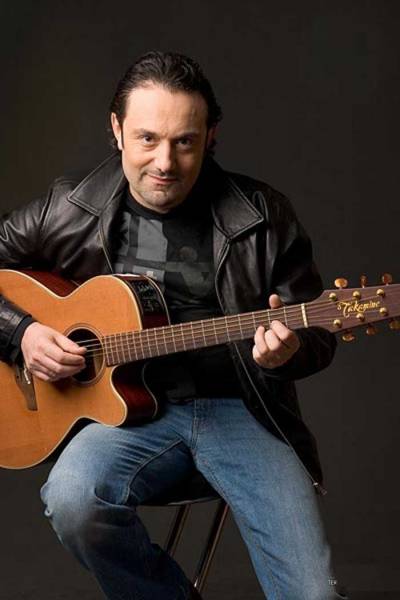 Garik Krichevsky worked as a radiologist and leader of the band "Tik" dreamed of becoming an artist
Celebrities is not an exception: the singer and actress Jennifer Lopez was a lawyer and was studying for the bar, but the love of music and dance took over.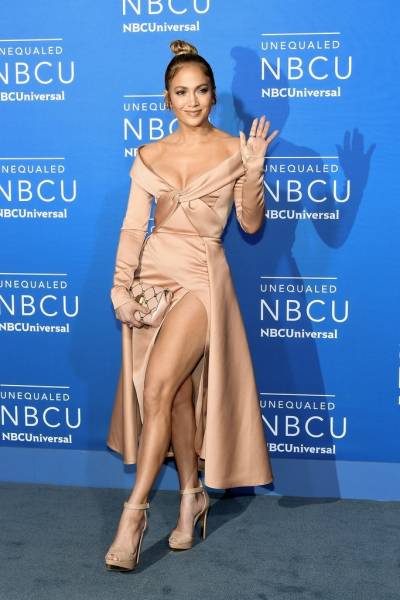 J. Lo. Was studying for the bar. Photo: AFP
The best thing you can do today, ask yourself: "what do I want?"
Elena Shevchenko, a practicing psychologist:
"Approach to the choice of profession for the past 20-30 years, completely changed. Before the question "Whom to be?" the children often decide parents aware of the links and opportunities. How suited man activities one much thought. Currently open all the way. The abundance of information about people who have achieved success and have become brands, also acts as a motivator: "He could, I can!". This contributes to a huge amount of courses, educational schools online. Due to the fact that you can try yourself in different guises at the stage of learning, people can understand what really want.
This does not happen in 18 years, and often after 30. And that's fine. In 18 years, few people understand who he wants to be: if parents suppressed desires of the child, imposing him their "correct" views, then he doesn't "want to" in principle. The best thing you can start doing today is to constantly ask yourself questions: "What do I want now?", "What kind of life seek?".
The rejection of a career and stable income, condemnation and lack of understanding of loved ones is a great challenge. Very painful the lack of a supporting environment. This strengthens the internal fear that it will not work. Alas, in our society it is accepted to criticize than to support. Therefore, if a person decided to change radically the activity, you need to find someone who already did. The experience of other people and their confidence that everything will work out, give determination and faith in yourself.
Major change of activity is always stressful. Especially if there is no financial cushion. Therefore, if a person feels fear, I would recommend to do it gradually to give the new business time after the main work to begin to monetize your passion.
In the process of working with people and study the properties of our psyche, I concluded that the statement "anyone can be anything" — is incorrect. It is important to realize that you can, and not yours. If you feel that there is no burning and discomfort — continue transition to the selected activity. Do not finish that brings a stable income until you feel confident in each other. In a stressful situation some people break, and others become stronger. So everyone decides for themselves what steps to go in a new direction.
I would recommend every person to undergo basic tests to determine their natural inclinations, to know your types of professions to understand: "Who am I?"
Comments
comments