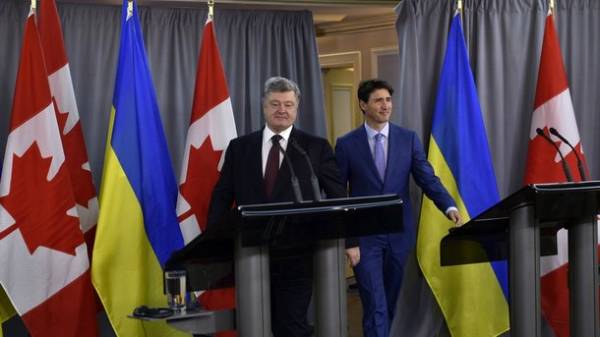 President of Ukraine Petro Poroshenko during talks with Prime Minister of Canada Justin Trudeau, introduced the vision of Ukraine on improving the partnership in the sphere of security and defense with new initiatives. It is reported by the presidential Administration.
"Today, I introduced the vision of Ukraine on how we can improve the partnership in the sphere of security and defense with new initiatives," – said Petro Poroshenko during a meeting with the media following the talks.
The Ukrainian head of state reminded that in the beginning of this year signed a bilateral Agreement on defense cooperation that will facilitate our cooperation in the military sphere. Also this year, the government of Canada continued operation UNIFIER (training mission – Ed.) which ensures the training of canadian instructors our Armed Forces.
"I believe that having a good Foundation, it's time to move forward", – says Poroshenko.
SEE ALSO
Joint statement Poroshenko and Trudeau: the full text
The President expressed gratitude to Prime Minister Trudeau and the government of Canada for persistent and intransigent of Canada in support of the sovereignty, independence and territorial integrity of Ukraine, in the face of continued Russian aggression.
"Such a principled position of our allies and partners, the continued political pressure and sanctions, such leadership on the international scene that shows Canada is crucial to stop the war waged by Moscow to force the change of borders of Europe", – said the President.
According to Poroshenko, thanks to the presidency of the G7 Canada can play an even more important role in ensuring peace and stability in Ukraine and Europe. "We see that the G7 platform also contributes to efforts of the international group friends of the de-occupation of Crimea. I believe that Canada is well suited for this role because Crimea – is primarily concerned with the rights and freedoms of the person", – he said.
The President also stressed that diplomatic efforts should be backed up by a solid defense and economic stability of Ukraine.
In turn, Justin Trudeau, replying to the question of military assistance, noted that there is a list of and mechanisms for the realization of common goals. "We will stay forever with Ukraine in the fight against the illegal aggression of Russia against Ukraine", – said the Prime Minister of Canada.
He also reminded that Canada helps instructors that train the Ukrainian military and pass on their experience.
As you know, Petro Poroshenko, on September 22-23, is in Canada on a working visit.
Comments
comments