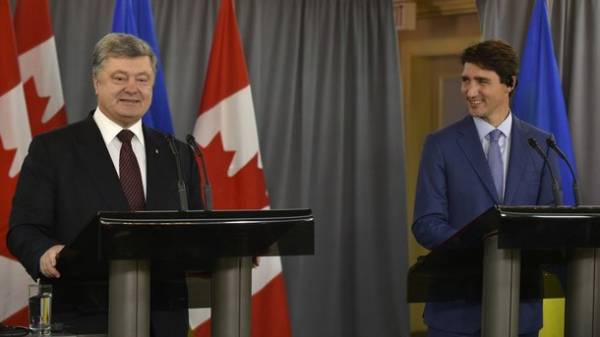 President Petro Poroshenko met with the Ukrainian community of Canada noted that during today's talks with canadian Prime Minister Justin Trudeau discussed the issue of visa liberalization, the press service of the presidential Administration.
"We did the canadian side of the specific sequence of actions for the positive promotion on the way. I am convinced that this will contribute not only to the maintenance of the related contacts, but also to expansion of Ukrainian-canadian economic and cultural cooperation", – said the head of state.
He added: "We have agreed to significantly reduce the number of failures in obtaining visas. To visa was on the passport validity. So far, in the first phase."
"I am confident that once we have completed 144 EU measure (for bezveza), Ukraine also meets most of the criteria of Canada. So we look forward to a comprehensive dialogue on this critical issue," – said Petro Poroshenko.
SEE ALSO
Poroshenko and Trudeau discussed the progress of reforms and peacekeeping mission in the Donbass
The President reminded that in 2005 Ukraine has decided to open its doors, offering visa-free for citizens of Canada.
The President also said that the decision about opening of Consulate General of Ukraine in Edmonton.
According to him, this step will greatly facilitate business contacts and also contacts with the Ukrainian community.
According to the President, during the talks, Prime Minister Justin Trudeau has promised to provide full assistance for the implementation of this decision.
Ukraine is ready to work with Canada on the issue of visa-free regime for their citizens, said the President of Ukraine Petro Poroshenko.
Earlier it was reported that Canada will not consider the abolition of visas for Ukrainian citizens in the short term.
Comments
comments