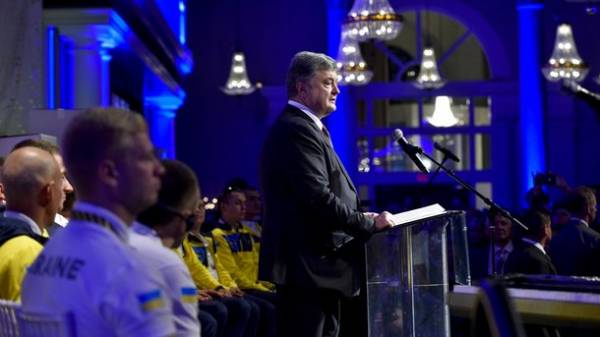 President Petro Poroshenko with his wife Maryna Poroshenko and the Prime Minister of Canada Justin Trudeau took part in the celebrations commemorating the Ukrainian team "Games undefeated". Solemn opening of competitions will take place on September 23. About it reports a press-service of Administration of the President.
Addressing the participants of the Ukrainian team and the audience at the ceremony with a welcoming speech, the President thanked the Prince of Wales Harry for this extraordinary initiative – based in 2014 international sports competitions in the Paralympic-style Invictus Games.
"This is the best way of recognizing our brave men and women in uniform. Their examples of courage inspire us confidence in our final victory," – said the President.
"I am very proud to be here today for recognition of the Ukrainian team that for the first time will participate in "Games undefeated". These soldiers represent the essence of indestructibility of the Ukrainian army", – said Poroshenko.
According to him, the history of each soldier present in the Ukrainian team, is an incredible example of faith and determination.
"These people are Ukrainian army – strong, free and reformed, that deserves appreciation and respect for the whole democratic world," he said.
SEE ALSO
How Ukrainians came to the Games of the unconquered: photo & video
The President also noted that the Ukrainian military develop a brotherhood in arms with foreign allies, including Canada, and recalled as the Day of independence of Ukraine, representatives of the canadian troops marched by our soldiers during the parade in Kiev.
"Can't imagine a better proof of solidarity with Ukraine," – said the President and thanked the government of Canada for its strong support of our state.
"Due to imposed sanctions, training mission UNIFIER, powerful technical, humanitarian and medical assistance we feel a friendly shoulder and arm support, right handed canadian leaders, and ordinary citizens," he said.
The head of state thanked the Ukrainian Gromada Canada. "The participation of Ukrainian team in "Games of the unconquered" would be impossible without your help," he said.
As you know, Petro Poroshenko, on September 22-23, is in Canada on a working visit.
Comments
comments