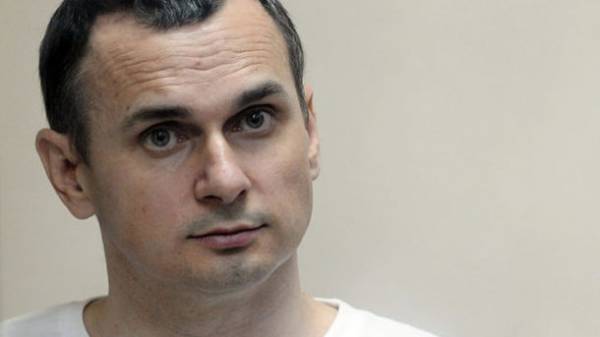 In the Russian capital Moscow independent theatre documentary play "Театр.doc" shows the performance of "War is near" about the war in Ukraine and Syria, part of which is called "Engagement" is devoted to the trial of convicts in Russia for terrorism, the Ukrainian filmmaker Oleg Sentsov and other Ukrainian political prisoners in Russia – reports 112.ua.
"Engagement" is a documentary project on the court case of Oleg Sentsov, Oleksandr Kolchenko, Gennady Afanasyev and Alexei Chirniya. The war was coming and the regular guys who got in its range of choice. A difficult choice," reads the playbill.
Artistic Director of "Театр.doc" Elena Gremina on his page in Facebook called on the audience to come to the show to "remember that this is happening."
"What to do when evil wins? Oleg Sentsov, who killed no one, stole nothing, sentenced to 20 years and sits on a strict regime… We play the show "War is coming", one part of which is devoted to the case of Oleg Sentsov. Come… at least to remember that this is happening. At least not to forget," wrote Gremin.
Earlier, Russian media, citing sources, reported that Oleg Sentsov was transferred to an isolation cell in Irkutsk. Today the lawyer told about the fate of whales.
Earlier it was reported that Ukraine together with the world will continue to fight for the release of unlawfully convicted in Russian Director Oleg Sentsov. The President of Ukraine Petro Poroshenko said in his message to the workers of cinematography on their professional holiday.
We will remind, the Director Sentsov, activist Oleksandr Kolchenko was detained by employees of FSB of the Russian Federation in the occupied Crimea in the spring of 2014. They were transported to Russia, where he was tried on trumped-up charges of organizing terrorist attacks and arson of party offices on the Peninsula. Both pleaded not guilty.
In December 2014 the Prosecutor General of Russia stated that Sentsov and Kolchenko are Russian citizens, because after the annexation of the Peninsula, they expressed no desire to maintain another citizenship.
At the same time, Parliament Commissioner for human rights Valeria Lutkovska said that Sentsov and Kolchenko are actually imposed Russian citizenship automatically, like most residents of the Crimea, and to abandon it for one month they, being in prison, could not.
A Russian court on 25 August 2015 announced the sentence Sentsov and Kolchenko, condemning them to 20 and 10 years imprisonment respectively.
The Ministry of justice of Ukraine addressed a request to Russia on the transfer of Sentsov and Kolchenko as citizens of Ukraine.
21 Oct 2016 Russia refused the transfer of Sentsov and Kolchenko Ukraine.
Comments
comments