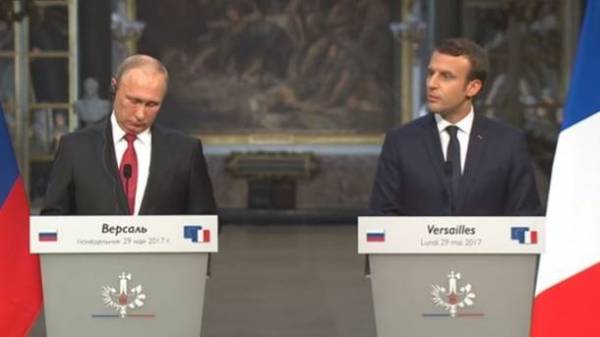 Your statement about Russian media propaganda Sputnik and Russia Today the President of France Emmanuel macron took revenge on the Russian leader Vladimir Putin for interference in elections. This was written in Facebook by the political expert Taras Berezovets.
"Emmanuel macron in the presence of Vladimir Putin publicly whipped the Kremlin for its interference Sputnik and Russia Today in the election campaign. The face of Putin deserves special attention. He groaned, sweated, blushed, but heroically kept silent" – wrote Berezovets.
He noted that while the macron strongly versed with the Kremlin propagandists in Kiev continues legally the Russian news Agency "RIA Novosti".
"Here we clearly should learn from the French the ability to make Russian suffers," added the expert.
As reported yesterday, Emmanuel macron at a joint press conference with Russian leader Vladimir Putin said that was not allowed by the Russian media, Russia Today and Sputnik to his electoral headquarters during the presidential campaign, as they act as a propaganda Agency.
Comments
comments