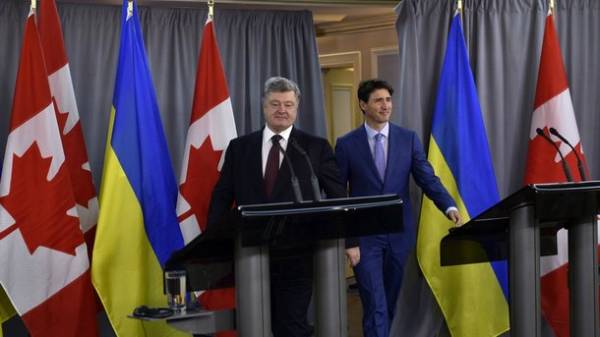 President of Ukraine Petro Poroshenko sure that the UN peacekeeping mission in the Donbass will be placed throughout and will block the supply of troops and weapons to militants.
"Of course, it's Russian script… peacekeeping mission should be with a UN mandate and be placed on the entire territory of Donbas to the border between Ukraine and Russia, not to allow the troops, arms held in the occupied territory," said Poroshenko at a joint with the Prime Minister of Canada Justin Trudeau press conference on Friday in Toronto.
In turn, Trudeau said that "Canada believes in the idea of UN peacekeeping forces". According to him, the UN peacekeeping operation "has always been a powerful tool for establishing stability and de-escalation of conflicts around the world." He recalled that this year Canada to participate in peacekeeping operations will provide up to 600 personnel and monetary contributions. Trudeau said that Canada in the coming months to discuss how she can help de-escalate the situation in "the region where Russia had violated international law."
SEE ALSO
Peacekeepers on the Russian-Ukrainian border, the Kremlin has made an important clarification
Note that the position of Russia and Ukraine at odds in the deployment of peacekeepers. So Kiev wants their imposition on all uncontrolled territory of Donbass, include the Russian-Ukrainian border. Moscow, in turn, is configured only to enter them on the line of contact and for the protection of OSCE observers.
As stated at the UN General Assembly the President of Ukraine Petro Poroshenko, Russia's position on the placement of peacekeepers only on the line of contact and for the protection of the OSCE said about the intention to freeze the conflict in Donbas.
The President also appealed to the UN with a request to enter the mission in the Donbass as soon as possible. In addition, he urged the Secretary-General to send to the Donbass assessment mission of the situation.
Comments
comments