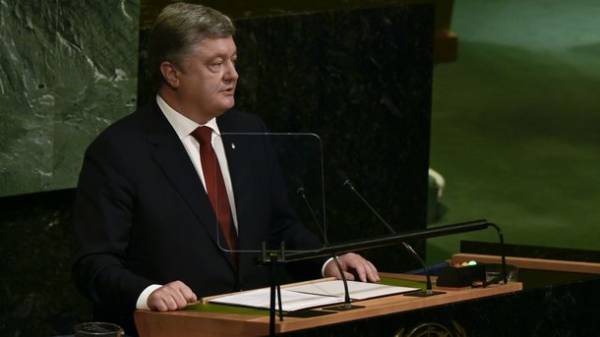 During a speech to the 72nd session of the UN General Assembly, President Petro Poroshenko said that Ukraine condemns the nuclear test and multiple ballistic missile launches by North Korea and supports the strengthening of measures to curb the illicit activities of Pyongyang, reports the press service of the head of state.
"In the name of peace in exchange for security assurances, Ukraine gave up its third largest in the world nuclear Arsenal," – said Poroshenko, adding that "twenty years later in the Ukraine burst the one who promised to respect and to protect the state border of Ukraine".
The President stressed that Ukraine remains a strong supporter of global non-proliferation and disarmament.
"That's why we strongly condemn the nuclear test and multiple ballistic missile launches carried out by North Korea. We are deeply concerned about the permanent withdrawal of resources, the priority of human needs, to fuel the nuclear Arsenal of Pyongyang, combined with serious violations of human rights", – said Poroshenko.
"We strongly support the strengthening of measures aimed at ending the illicit activities of Pyongyang and the return of North Korea to the international legal field", – said the President.
The President also reiterated the appeal of Ukraine to the UN Security Council to conduct a detailed investigation into the development of nuclear and missile programs of North Korea to detect any possible external aid to Pyongyang in this area.
As reported, U.S. Ambassador to the UN, Nikki Haley said that the US President Donald trump does not want war with North Korea.
Comments
comments