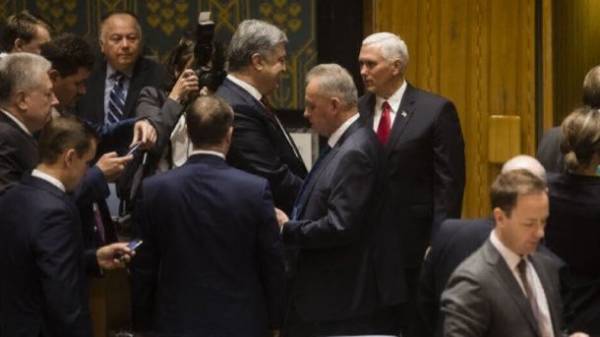 The President of Ukraine Petro Poroshenko and Vice-President of the United States Michael Pence ignored the speech of the Minister of foreign Affairs of Russia Sergey Lavrov at the UN security Council.
Poroshenko and Pens and left the room Ministerial meetings of the UN security Council just when there was going to be the Russian foreign Minister Sergei Lavrov, write "RIA Novosti".
Petro Poroshenko and Michael Pence spoke at the meeting before.
By the way, earlier it became known that Sergey Lavrov has ignored the Ukrainian President, while other members of the Russian delegation attended.
During his speech at the UN security Council Petro Poroshenko demonstrated another evidence of Russian aggression against Ukraine and Russian military presence in the Donbas.
Earlier it was reported that the Russian delegation demonstratively left the hall of the UN General Assembly before the speech of the President of Lithuania.
Comments
comments