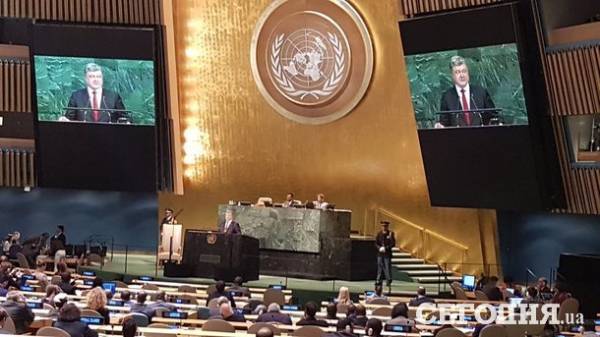 The President of Ukraine Petro Poroshenko on 20 September addressed the UN General Assembly session, supporting the idea of reforming the international organization.
"On behalf of Ukraine I congratulate Mr lajčák (Miroslav lajčák. – Ed.) on his election as Chairman of the 72nd session of the UN General Assembly. Ukraine fully supports all six priorities identified for the forthcoming session," – said Poroshenko.
As we know, Miroslav lajčák has identified six priority areas of its activities during the 72nd session of the UN General Assembly:
conflict prevention;
migration;
protection of human rights;
sustainable development;
climate change;
equality.
"The spiral of violence draws an increasing number of countries and regions," said Poroshenko, adding that the terrorism is spreading.
According to him, the magnitude of threats requires joint decisive response: "now is the time to act, and we have very few opportunities to avoid a rollback to irreversible".
"Ukraine has always advocated the need to reform the UN in order to solve global problems", – said Poroshenko and welcomed the efforts of the UN Secretary General, antónio Guterres for effective reforms, and the US initiative in this direction.
SEE ALSO
More and more countries support the reform of the UN
Comprehensive reform of the UN is long overdue, said the President of Ukraine and expressed hope that this session will show a positive trend in the development of international relations.
"We in Ukraine totally agree with the fact that the sovereignty and security of each state should be guaranteed," Poroshenko said.
SEE ALSO
Russia has blocked a proposal by trump on the UN reform
"This principle was grossly violated in respect of my country," – said the President of Ukraine.
Comments
comments