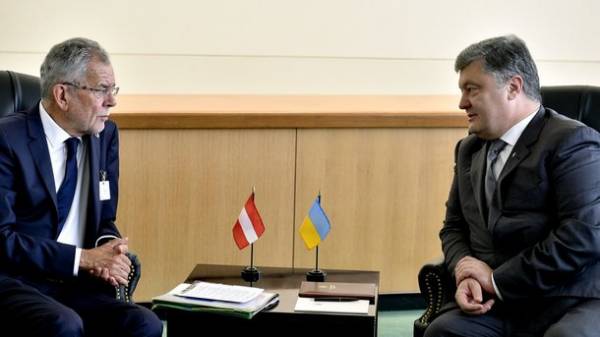 The President of Ukraine Petro Poroshenko and the Austrian President Alexander van der Bellen (Alexander Van der Bellen) stressed the importance of strengthening the technical and technological capabilities of the Special monitoring mission (SMM) of the OSCE in the Donbass for a more effective implementation of their mission.
As informs on Tuesday a press-service of the President of Ukraine Poroshenko and van der Bellen at the meeting in new York (USA) welcomed the positive trend in bilateral trade as a result of the entry into force of the deep and comprehensive free trade area between Ukraine and the EU.
The President of Ukraine informed the Austrian counterpart on developments in the Donbass, in particular, on the implementation of the Minsk agreements and further steps to de-escalate the situation.
"The presidents coordinated approach to the promotion of the initiative to deploy the UN peacekeeping operation throughout the occupied territory of individual regions of Donetsk and Lugansk regions. Petro Poroshenko called on the Austrian chairmanship of the OSCE to maintain an active dialogue with the UN on this issue", – stated in the message.
The sides also stressed the importance of strengthening technical and technological capacities of the OSCE SMM to ensure effective implementation of the mission in the Donbass.
The presidents paid to the issue of attracting international partners to work together on the issue of de-occupation of Crimea.
Poroshenko has invited his Austrian counterpart to visit Ukraine, and the invitation was accepted.
As reported, Poroshenko and Mogherini discussed the issues of Donbass.
Comments
comments