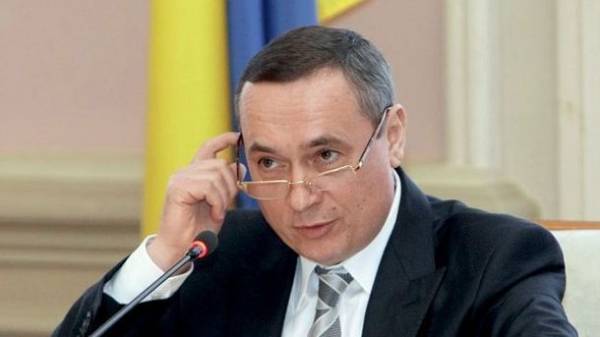 The judge of Solomensky district court of Kiev Alexander Bobrovnik, presiding in the meeting to consider the request of prosecutors Specialized anti-corruption Prosecutor's office (SAP) about election of a measure of restraint to the former Deputy of the Verkhovna Rada Mykola Martynenko, adjourned until 10:00 Saturday, April 22.
This decision Bobrovnik took about 00:30 Saturday.
In the course of the hearing more than ten deputies from the faction "people's front" read the statement with a request to bail Martynenko.
As reported, on 20 April, the detectives NAB and SAP prosecutors detained two individuals – the former people's Deputy of four convocations, the former head of the Parliament Committee on fuel and energy complex Martynenko and one of his accomplice on suspicion of committing crimes under part 1 of Art. 255 (creating criminal organization) and part 5 article 191 (assignment, waste of property or taking to them by abuse of official position) the Criminal code of Ukraine.
Law enforcement officers suspect them of committing embezzlement of the funds of GP "VostGOK" $17,28 million through illegal detention and execution of the contract of purchase and sale of uranium concentrate SE "VostGOK" across the Austrian intermediary company Steuermann. SAP requires to elect Martynenko suspect the measure of restraint in form of detention for 60 days with the alternative of payment of the Deposit, UAH 300 million.
Martynenko said that the charges against him was fabricated at the direction of the Director of NABU Artem Sytnik for PR purposes and to divert attention from the failures of NABOO.
The meeting to elect former MP measure was originally supposed to start at 15.00 on Friday, however, due to the protracted meeting on another matter, the election of a preventive measure began only in 18.54.
After Bobrovnik announced the beginning of the meeting, the defense Martynenko filed a motion for his disqualification. The presiding judge adjourned the case for transfer of the petition for his disqualification for consideration by another judge of Solomensky district court of Kiev and withdrew from the courtroom.
At 21.10 on Friday the judge of Solomensky district court of Kiev of Hell pedenko refused satisfaction of the petition of protection ex-MP for disqualification A. Bobrivnyk.
The hearing on the remand was not resumed until after 22.00 on Friday.
Comments
comments