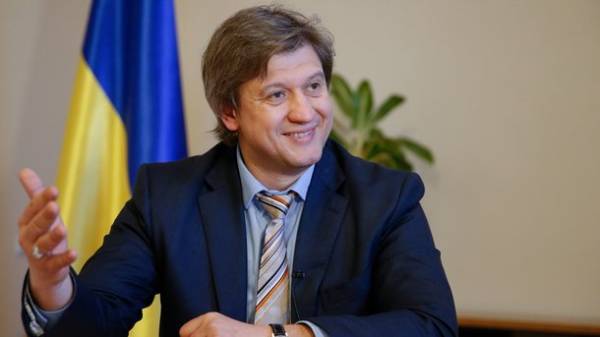 Ukraine placed Eurobonds for 3 billion USD for 15 years – a record time for the Ukrainian securities on foreign capital markets. Finance Minister Alexander danyluk explained why Kiev placed Eurobonds in such conditions.
According to the head of the Ministry of Finance, investors trust Ukraine and are ready to invest in the country, including, for two reasons:
in Ukraine, as noted by danyluk, introduced "major structural reforms" over the past three years, which helped to stabilize the economy and financial system;
Ukraine's economy, according to the Minister, "is recovering and growing for the second year in a row."
Placement of Eurobonds is a step to stabilize the financial system of Ukraine in the future, the head of the Ministry of Finance.
"A portion of the proceeds from the new issuance of bonds used for repurchase/exchange of bonds of the 2019 and 2020 maturity when we have the main peaks of foreign debt payments. This way, we reduce the future debt burden," – said danyluk.
According to him, the remaining proceeds from the new issue of Eurobonds will be used to Finance the budget deficit, which will also reduce the debt burden on the budget of Ukraine.
SEE ALSO
The budget of 2018: what and how much from the Treasury
Additionally, danylyuk said that "any healthy economy" must be present on the external capital markets.
"This means that the country can attract financing from investors on advantageous terms at any moment when it may be required. Ukraine was not present in these markets in recent years, and recent meetings with investors (Roadshow) was done in 2010. Therefore, this return was also a symbolic sign of the recovery of our economy", – explained the head of the Ministry of Finance.
SEE ALSO
The main buyers of Ukrainian Eurobonds were investors from the US and the UK – Ministry of Finance
The Minister noted that this placement also creates the preconditions for further improvement of credit ratings of Ukraine, "because we take a responsible approach to the management of public debt".
"It also means that Ukrainian business will be able easier and cheaper to attract external funding for its development", – said danyluk.
SEE ALSO
Moody's increased the credit rating of Ukraine and gave a positive Outlook
According to the head of the Ministry of Finance, asked the Ukrainian paper was high – about 350 investors have applied to the acquisition of new Ukrainian Eurobonds, and the total volume of bids amounted to 9.5 billion U.S. dollars.
Comments
comments