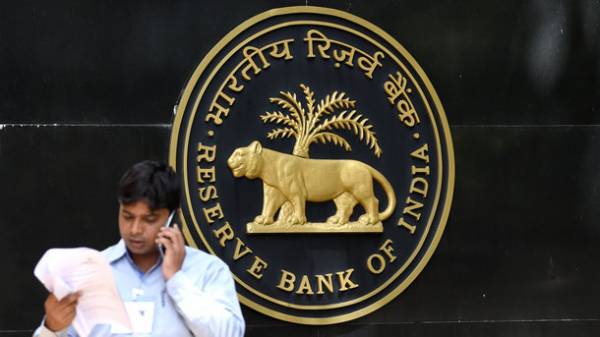 The Indian government is considering launching its own cryptocurrency. We offer state of the cryptocurrency must be issued by the Reserve Bank of India (RBI) writes "News.Economy."
The proposal had been discussed by the group of government officials and experts, and implementation of the blockchain in financial services was recognized as promising. RBI formed a working group to explore the possibility of using cryptocurrency as legal tender.
Executive Director of RBI, Sudarshan sen stressed that to consider bitcoin as a national cryptocurrency, the Agency has no plans. Officials are not sure of the reliability of bitcoin as a currency, and the messages about using digital coins for money laundering and terrorist financing cast a shadow on the reputation of the first cryptocurrencies.
Bitcoin looked upon with suspicion because it is not regulated in the monetary policy framework of the government of any country, and its price has fluctuated significantly. Earlier this year Reserve Bank of India has warned users and traders of virtual currencies about the risks associated with the use of bitcoin.
However, Indian companies working with bitcoin, say the influx of customers. After the demonetization carried out by Prime Minister Narendra modi in November last year, the number of users of bitcoin has grown, and now, according to several market participants, is about 600 thousand people. The company also attributed the growth of interest in bitcoin spread of the Internet, the success of bitcoin abroad and high profits from non-traditional investments.
Indian bitcoin companies are numerous security checks, and ask users a range of identification documents. Some companies even conduct an identification by voice and ask for a Bank statement.
SEE ALSO
One of the largest Bitcoin exchanges in China closes
"Cryptocurrencies will be able to obtain our approval, when, for example, the Reserve Bank of India will start to issue digital currency, which you can use in cyberspace, while not having in my pocket such currency in the physical dimension", – said the Executive Director of RBI, Sudarshan sen, at a conference in Mumbai.
"As for neatnik cryptocurrency, I think they do not suit us," added Sen. The Central Bank had not previously disclosed its plans for cryptocurrency, and the Saint did not provide any information about where this is discussed.
If the decision on the issue of cryptocurrencies is accepted, the authorities will have to change some laws, including the law on the currency, which means that the implementation process will be time consuming. New cryptocurrency can be called "Lakshmi" in honor of the Hindu goddess of wealth and prosperity.
Comments
comments