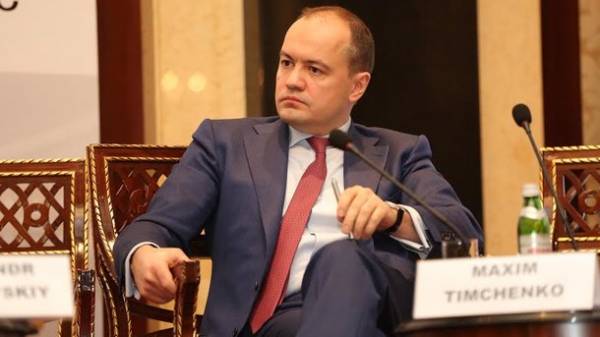 The enterprises of DTEK, located on the temporarily uncontrolled by the Ukrainian authorities of the territory of Donbass (PCP), has worked and will work in the framework of the Ukrainian legislation, said the General Director of the holding company, Maxim Timchenko.
"The company has worked, works and will continue working exclusively within the framework of the Ukrainian legislation", – he told reporters at the Adam Smith forum in Kyiv on Tuesday.
According to him, currently, DTEK tubing at work in a regular mode, any changes in terms of their management did not place.
Timchenko said that the ongoing blockade is a big blow to the economy of the country both in terms of energy and part of the industry.
"This is a huge blow to the investment climate. In a country where there is no rule of law, it is very difficult to invite investors, to convince them to risk their money," said the CEO of DTEK.
However, he noted that attracting foreign investment are currently required to exit from the crisis, construction of new generating facilities.
In addition, Timchenko believes the embargo will affect each consumer of Ukraine, because to import coal from abroad much more expensive.
Meanwhile, the Ministry temporarily occupied territories and internally displaced persons believe that in the case of "nationalization" of the Ukrainian enterprises located in non-government controlled areas of Donbas, they will be looted.
"If they are "nationalized", … are pressed, they will at best simply preserved in the worst case (more than likely) – they will be plundered: partially exported to Russia, partly for scrap. All that it describes what will be found markets in Russia – it's all fiction", – said the Deputy Minister of the temporarily occupied territories and internally displaced persons Georgy Tuka reporters on Tuesday in Kyiv.
As reported, the self-proclaimed authorities of the so-called "DNR"/"LNR" announced about the intention to introduce external management at all enterprises of the Ukrainian jurisdiction, located on the tubing string, if prior to March 1 established by activists in the controlled area, the blockade of the rail track will be lifted.
We will remind, on Donbass lasts the blockade of the coal, with the active participation of several people's deputies of Ukraine. Upon blocking of railway lines in the Luhansk oblast Prosecutor's office opened criminal proceedings.
In turn the Prime Minister-the Minister Vladimir Groysman declared that will not allow the embargo to organize the fight against the Ukrainian people. The Prime Minister reminded that people risked their lives to restore the operation of enterprises in the town.
The website "Today" to find out the threat is a blockade of Donbass. According to experts, the consequences could be disastrous.
Comments
comments