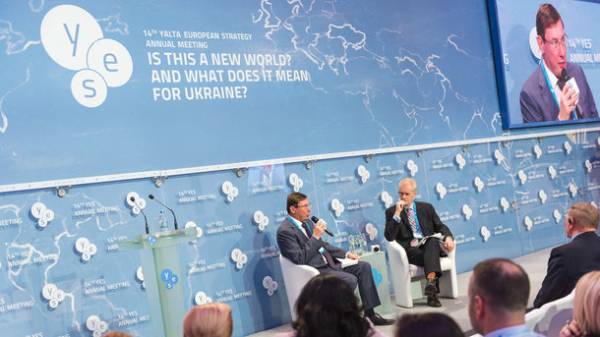 The General Prosecutor of Ukraine Yury Lutsenko assures that the institution will not become a tool for settling accounts with political opponents or the destruction of those who does not like a large part of society.
"I discard the possibility of opening criminal cases on order, I'm not "table of orders". If some politicians want to call the perpetrator his opponent, this does not mean that the attorney General should immediately take the salute", – said the Prosecutor General during the 14th annual meeting of the Yalta European strategy (YES) "would the world be new? And what does it mean for Ukraine?" in Kiev on Saturday.
He stressed that the basis for opening a criminal case are only the facts of illegal actions. "Yes, I know that there are many people in this country, the integrity of which questioned society, but between doubt and evidence there is a huge distance," he explained.
"I'll turn the attorney General into an instrument for the destruction of those who do not like the majority of the public", – assured Lutsenko.
Earlier Prosecutor General of Ukraine Yuriy Lutsenko said that the anti-corruption court should be established as soon as possible, to all regions of Ukraine, while whether it is a separate court or a separate room in an existing court.
Yalta European strategy (Yalta European Strategy, abbreviated as YES forum) is an annual conference organized by the Victor Pinchuk Foundation.
The conference gathers the most influential politicians and businessmen of Ukraine and the world, it has been held annually since 2004.
HELP
Yalta European strategy YES: what you need to know
The aim of the conference is the development of Ukraine and its European future, as well as establishing international ties.
The founder of the Yalta European strategy, Victor Pinchuk, a prominent Ukrainian businessman and philanthropist.
Comments
comments