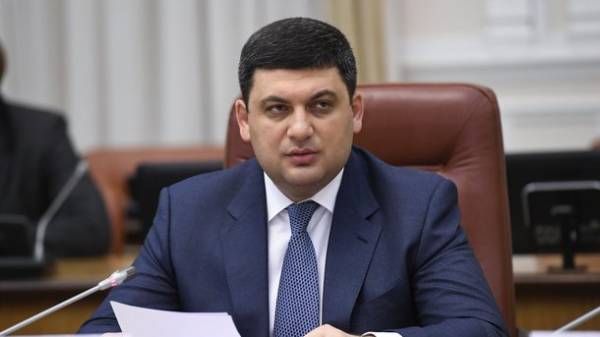 The priority of the government's work this year will be pension, judicial, health care reform, and decentralization and high quality and transparent privatization. About this at the conference "Transformation'17: what will the reform change in the lives of Ukrainians", said Prime Minister of Ukraine Volodymyr Groisman.
"We have many challenges that must be overcome. But it is not done just. Reform cannot be for the sake of reforms. We hear a lot that we need to make reforms, but we very rarely you hear, what the goal is for certain reforms. If you start a conversation with our government, we had a task – to stop the economic and political crisis. We came to economic growth. Our task was to accelerate growth in the 4th quarter in different ways managed to achieve 4.7 percent growth," – said the Prime Minister.
According to Vladimir Groisman, economically, Ukraine is rising up and then need to run the changes and reforms that will ensure sustainable economic growth and to give the opportunity to experience people real changes in quality of life.
"We have a number of important tasks that need to be addressed. At the legislative level, we need the support of Parliament. And then I started, probably one of the most difficult reforms – we need to reform the pension system. I promised last year that we are reforming the wage system and increase the minimum wage. I think the first quarter will show that we have achieved results. The following is a fair pension system. After a few months we will present our view on pension reform. Also this year, we need to conduct a good privatization. 3.5 thousand state-owned enterprises, most of which I'm sure is not managed effectively, are teeming with corruption", – said the Prime Minister.
Also, the priority of the government, the reform of the health system.
"Ukrainians today live 5-7 years less than our neighbours in the EU. This means that we can't defend in today's system the life and health of citizens. We have not 4th in the world in the number of beds the health care system. Our task for the near future to present qualitatively new model of health care reform," concluded the Prime Minister.
We will remind, according to media reports, earlier the Cabinet of Ministers of Ukraine has proposed that the IMF, its alternative option of pension reformthat does not increase the retirement age. Pension reform necessary for the country because of the huge deficit of the Pension Fund, which does not allow to pay a decent pension. The Memorandum, signed in September 2016, was not hard rules to raise the retirement age, but there was a recommendation to reduce the Pension Fund deficit.
Conclusion the updated Memorandum is necessary for Ukraine the fourth tranche under the extended Fund (EFF). Earlier the head of the NBU Valeria Gontareva predicted the receipt of the next tranche from the International monetary Fund in late February or early March.
Comments
comments