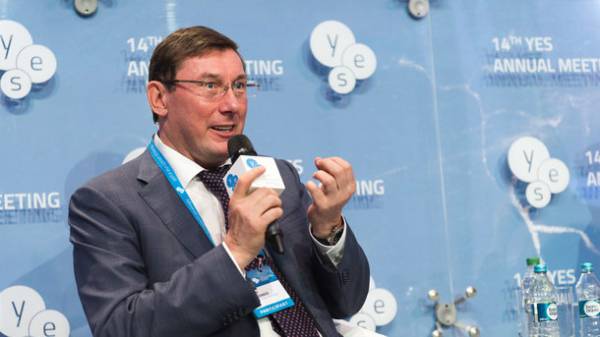 Anti-corruption court should be established as soon as possible, to all regions of Ukraine, while whether it is a separate court or a separate chamber in an already existing court, emphasizes the Prosecutor General of Ukraine Yuriy Lutsenko.
"I advocate the creation of an anti-corruption court that will be created without politicians, for all institutions, not just for NABOO, for all the corrupt and not just for the capital", – said the Prosecutor General during the 14th annual meeting of the Yalta European strategy (YES) "would the world be new? And what does it mean for Ukraine?" in Kiev on Saturday.
He noted that it is not so important, how it will be decorated: "this Will be a separate court or a separate chamber to me? This court should be all corrupt and as quickly as possible!"
According to the public Prosecutor, creating a new court as a separate structure with private areas will be somewhat prolonged in time.
"My historical memory tells that this (the creation of a new structure – if) take at least years… Yes, I as the attorney General asked friends colleagues-deputies of the… to make another law: in the existing court to create a private room… in each regional center and the capital on the open competition among the new judges for the three months will be recruited new judges," he admitted, meanwhile, Yuri Lutsenko.
"Give me 50 judges anti-corruption or anti-corruption chamber of the court this year – and we turn the country to a normal life," concluded the attorney General.
Earlier, Yuri Lutsenko said that the investigation in almost all cases with respect to the environment the former President of Ukraine Viktor Yanukovych.
Yalta European strategy (Yalta European Strategy, abbreviated as YES forum) is an annual conference organized by the Victor Pinchuk Foundation.
The conference gathers the most influential politicians and businessmen of Ukraine and the world, it has been held annually since 2004.
HELP
Yalta European strategy YES: what you need to know
The aim of the conference is the development of Ukraine and its European future, as well as establishing international ties.
The founder of the Yalta European strategy, Victor Pinchuk, a prominent Ukrainian businessman and philanthropist.
Comments
comments