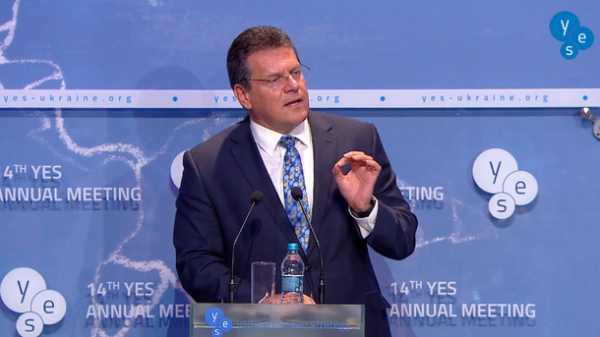 Vice-President of the European Commission on Energy Union maroš Šefčovič spoke at the Yalta European strategy, positively assessing the achievements of Ukraine on overcoming the crisis.
"Over the past few years Ukraine has made more reforms than in the previous 20 years… YES I remember two years ago when we watched in horror for the exchange rate, inflation. We must not forget that it was only two years ago, and now the country's cleared the banking system, began the growth of the economy" – said Vice-President of the European Commission.
According to him, Ukraine entered the same economic cycle and Europe, all member countries which also came to economic growth over the past two years
"25% of Ukraine and EU in both directions improved trade for the first few months of a free trade Zone. But this is not the end, I see a lot of potential. Reform, for example, in the agrarian sector can give a lot…" – said Vice-President of the European Commission.
According to him, visa-free regime and free trade zone is two tools "which can bring Ukraine and Europe closer." Sefcovic noted and a large energy potential of Ukraine.
"Gas transit through Ukraine after 2020 is a priority for the European Union", – said Sefcovic.
As you know, the contract with Russia for the transit of gas via Ukraine expires at the end of 2019, and Russia has called the conditions under which it will save the transit of gas through Ukraine.
"The European Union is Ukraine", – said Sefcovic.
Yalta European strategy (Yalta European Strategy, abbreviated as YES forum) is an annual conference organized by the Victor Pinchuk Foundation.
The conference gathers the most influential politicians and businessmen of Ukraine and the world, it has been held annually since 2004.
HELP
Yalta European strategy YES: what you need to know
The aim of the conference is the development of Ukraine and its European future, as well as establishing international ties.
The founder of the Yalta European strategy, Victor Pinchuk, a prominent Ukrainian businessman and philanthropist.
Comments
comments