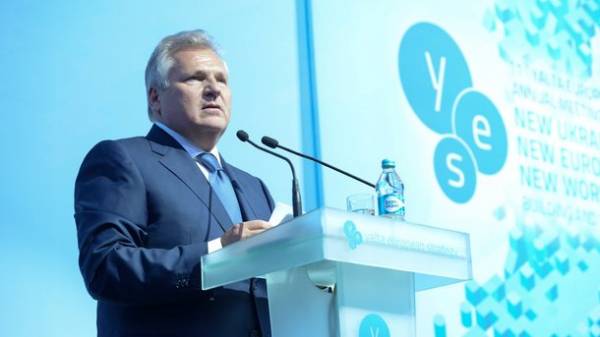 Today in Kiev, in the building Bessarabian market, a solemn opening of the 14th annual meeting of the Yalta European Strategy (YES), organized by the Victor Pinchuk Foundation.
During the ceremony with a welcome speech traditionally made by the former President of Poland and head of YES Aleksander Kwasniewski, as well as the mayor of the Ukrainian capital Vitali Klitschko.
"Our desire – independent Ukraine in the family of free Nations. Independent Ukraine with free people – the goal to be attained," said President of Poland (1995-2005), Chairman of the Board of YES Aleksander Kwasniewski.
"A lot of years, YES, the freedom of the people is the key among the topics discussed. This is a discussion we will continue in the coming days. Our desire, our dream, our desire to see a free and independent Ukraine in the family of free Nations," he said.
Kwasniewski added that the Besarabsky market, where the opening ceremony YES, the aspiration of the Ukrainian people to freedom under any circumstances.
"In Soviet times, this small piece of land was the embodiment of freedom and the market economy. A small amount of capitalism in a big ocean of communism … Today we rejoice in this unique market, which embodies the energy of people who despite someone's attempts to build a centralized economy in a centralized state, left this place a real market ", – concluded the ex-President of Poland.
Recall that the Yalta European strategy (Yalta European Strategy, abbreviated as YES forum) is an annual conference which gathers the most influential politicians and businessmen of Ukraine and the world. Held annually since 2004. The aim of the conference is the development of Ukraine and its European future, as well as establishing international ties.
The founder of the Yalta European strategy, Victor Pinchuk, a prominent Ukrainian businessman and philanthropist. It was in July 2004, invited about 30 European leaders to discuss the prospects of Ukraine's accession to the EU. And on the second day of the conference, some participants proposed to create an international organization that will promote Ukraine's European integration. So the Yalta European seminar turned into Yalta European strategy, an independent charity.
Comments
comments